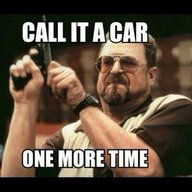 First Name

Mike
Joined

Aug 16, 2018
Messages
Reaction score

11,485
Location
Vehicle(s)

2019 JLUR Stingray 2.0 turbo
Vehicle Showcase
Why does every single post that mentions the 2.0 end up on arguments about which one is better blah blah. Weve been fighting each others on which power platform is better since 2018. There are 100 threads to post your opinion. Ive voiced mine before once and that was it.

People with the V6 think they have the most reliable engine,me included, and it gives us peace of mind even if it isnt true. People with the 2.0 love the engine, I have not seen one single comment of a 2.0 owners who hates it. So can we just be happy that we like different things?
Something worth noting, is the fact that it's always a 3.6 owner who turns the thread into a pointless shit show. Emotional outbursts and negative comments towards something they are not qualified to comment on. Ever see a 2.0 owner pulling the same shit? And when someone chimes in with actual knowledge, it gets overshadowed with heaps of stupidity. It's a shame for the poor guy that comes along looking for facts and unknowingly goes away with false information.
I fully agree about the unnecessary infighting, which does nothing to benefit anyone involved. This world has been screwed over because of societies need to insert dividing lines in every facet of life, when we all just want the same things. Now, those dividing lines have to be brought in our little Jeep utopia. Wtf!