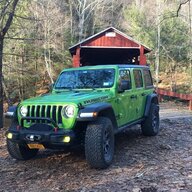 First Name

Carl
Joined

Oct 5, 2017
Messages
Reaction score

314
Location
Vehicle(s)

-*|||||||*- 19' Mojito! Rubicon 6-speed, 09' Ram TRX4, 67 Chevelle 300 Deluxe
The yellow color doesn't help if the lights aren't projecting. In the 2 snows I experienced, the fog lights were completely occluded by snow. Only the very top of the headlights were projecting, albeit upwards which caused the "Hyperspace" effect.
They definitely need a heater grid. But for 95% of the year they are far superior. When I changed my Dodge Ram bulbs you a drop in replacement led bulb, I have to occasionally stop and clear the lenses. Not ideal but I already have to stop to clean snow from building up under the wipers. So it's just one more step. Truck lite has a version with the heater grid built in for the Jeep. So if it ever really bothers me I would seriously consider them as an option.
I am surprised that the manufacturers haven't been called out about this issue more from the northern states or countries.