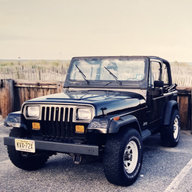 First Name

Rob
Joined

Jun 11, 2020
Messages
Reaction score

115
Location
Website
Vehicle(s)

93 YJ Wrangler, 2021 Willys JLU O|||||||O
Occupation

Marketing & Creative Director / Web Designer
Jam bands 99% of the time. This style of music tickled my gray matter in the 1990s* and changed my life. These days it's usually some combination of tiers 1 & 2:

Tier 1 - These are the bands that inspired a cultural movement around them.

Grateful Dead - Plus modern interpretations including Dead & Company.
Phish - Also almost anything that Trey Anastasio does, especially Trey Anastasio Band and Ghosts of the Forest.

Tier 2 - Musically as good as Tier 1 (maybe better?), but under-appreciated as the genre itself is niche and dominated by Phish.

Disco Biscuits - They invented trance fusion and jam better, harder, and more uniquely than any band ever, period. Words have been adopted by music theorists to describe what 'The Biscuits' do on stage: inverted, dyslexic, fakeout, palindrome, etc. It's mind-melting.
Umphrey's McGee - The band that merged prog rock with jazz-inspired jam rock. Sometimes it's metal, sometimes it's reggae, and most of the time it defies definition.

Others - Contextual genius.

moe.
The String Cheese Incident
Leftover Salmon
Lots of amazing 'newgrass' bands like: Greensky Bluegrass, The Infamous Stringdusters, Yonder Mountain String Band (pre-Jeff Austin departure - RIP).
Lots of amazing trance fusion/jamtronica bands like: Particle, STS9, Lotus
RAQ
* God Street Wine - They turned me from a Metallica/Black Sabbath metal head into a noodle-dancing wierdo
The Big Wu
Keller Williams
Twiddle - The band the jam scene loves to hate, but they're great!
Nice GSW shout out! Lo plays live streams on Thursdays and just did $1.99 full album with lots of explanations to the songs in between. Was really awesome. U can check it out on his YouTube page.