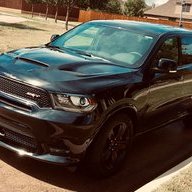 First Name

Steve
Joined

Jul 22, 2019
Messages
Reaction score

24
Location
Vehicle(s)

SRT Durango, Searching for a JLUR
Hello-
Total noob to this site, but I thought it would be fun to at least share my story as to how I got here and where I plan to go. My wife and I had a 2 door TJ back in the early 2000's with the old inline 6. We loved it and hated the day we got rid of it, but as it was my wife's car (she was entering a career in real estate) we decided that more road appropriate vehicles were a better choice for entertaining clients.
Fast forward 14 years.....
My wife and I take our two children on vacation to the Turks and Caicos. We wanted to stay in a remote area and I decide to rent a late model JKU. I figured that it was just a precautionary measure as our place was far enough out that a 4 wheel drive vehicle might come in handy. At first it's nothing special, just more of a premium rental and a fun vehicle to drive around. However, one day while leaving the condo/resort we were staying at I notice a rocky road leading in a different direction. It's a road you couldn't handle very well with your normal "standard sedan" rental, so I turn to my 9 year old son and ask if he's up for an adventure. Like any 9 year old boy, "heck yeah!", so pop it into 4 hi and away we go. With no idea where this road will end, we push ahead up and down through hills and even past a burned out passenger van, but we end up and the most beautiful pristine beach that I have ever seen. The water was crystal clear and 30 feet off the shore there was the beginning of a reef with tons of fish that you could spend days snorkeling. We of course grab my wife and daughter and head back the next day for a full day of fun. Over the next two days we enjoy a gorgeous beach with fabulous water and not a single other soul to bother us. Couldn't have done it without a jeep.
Back state side and it's decided, the moment the lease is up on my wife's Audi Q5, we are getting a JLUR. Owning a jeep is more than just a car, it's about experiencing life to its fullest and it took me renting one in a Caribbean island to remember it. Now the search begins.....