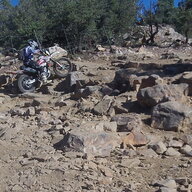 First Name

Chris
Joined

Aug 19, 2021
Messages
Reaction score

158
Location
Vehicle(s)

2005 GMC 2WD Sierra, 4.3, NV3500, 3:73/TruTrac
Times and fads change. Back in my day it was Baja Bugs and rail buggies. I camped and cross country traveled. Now it's called Overlanding. In fact a short 200 mile day trip through the desert is now called Overlanding.

I was just up in the mountains a month or so ago and the 4 door Jeeps and Subarus with rooftop tents were like cockroaches scrambling for the Yellow Post sites. They were all too scared to take their 50K plus rigs on anything but smooth fire roads. I took my 2WD truck with limited gear and made it to a remote Yellow Post campground all to myself.

And this ongoing trend of just loading these rigs to the gills!! Rooftop tents, 10 extra gallons of gas, huge 60 liter coolers, Impact tools, spare axles, spare this and spare that. And then taking it on nothing more than a smooth fire road for a day trip.

To be fair I have got caught up in the "adventure bike movement" with my Super Tenere. I actually use it for cross country travel and camping. It's not as capable as my Beta dual sport but a lot more comfortable.

And the big elephant in room is I hardly see any 2 door Jeeps unless I'm riding my dirt bike on the nasty 4 track trails. I will say that there is no way in hell I would get a 4 door Wrangler. I might as well get either a 4Runner or Lexus GX470. I'm 100% confident a 2 door Jeep can be packed smartly and very comfortably for cross country travel for 2.

The only possible scenario I can see for a 4 door Wrangler is if you have a large family with teens/adults sitting in the back. Otherwise I don't see the point. And from my perspective of what I see it's very rare to see families traveling in 4 door Jeeps. It's mostly couples or single drivers with the rigs packed to the headliners front to rear.

When spotting: Using hand signals and yelling "Left" -"Right are no more. Now you got all these goofballs screaming "Driver-Passenger"? What started this multi syllable shouting? Only thing I can come up with is the spotters are too dumb to face the driver and process that the drivers left and right are opposite of their own.

Ok, end of multi off topic rant. All good now!!!