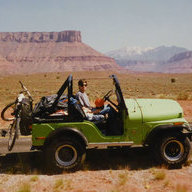 Joined

Jun 30, 2016
Messages
Reaction score

381
Location
Vehicle(s)

1998 Jeep TJ, 1985 Jeep CJ-7, 1972 Series III Land Rover
Occupation

Procrastinator
Utility and fun brought me to Jeep.

My automotive life started with my first car bought in the late 1980's, a $900 1965 Mustang I got while in college. Going on fishing trips to the U.P. (Michigan), with canoe on top trying to find some backwoods lakes, I was getting stuck, and put a dent in my floorpan. So for $700 I bought a 1976 2 wheel drive Datsun pickup. That was a big improvement in terms of ground clearance and also better mud tire traction. But it only held two people and I was still running into some issues getting stuck. And it had an infamous homemade particle board passenger side floor pan, which a friend eventually put his foot through, so we could see the front tire rolling from inside the cab.

Around that time a friend bought a 1980 CJ-7, and I realized quickly how nice it was off-road in terms of 4 wheel drive, sight lines with top/doors off, and flexibility. So for $6000 I bought a 1985 CJ-7. Drove that thing all over the country, including 10 years living in Colorado. Rocky Mountain trails, Moab, etc. Along the way picked up a 1970 CJ-5 for $1400 and a 1972 Series III 88 Land Rover for $6000. Taught myself to work on cars, mig weld, etc.

If I drop the dime on a new JL, it will be because the JLU offers 4 doors and more space than my current old 4x4s. It should cover longer distances in greater comfort than having my family of 4 and gear piled into our CJ-7 for the drive from Chicago to Colorado. Also I have let my old 4x4s deteriorate the past 5 years (something I am now in the process of correcting), and so one new vehicle (JLU) could be a nice addition.

On the other hand, my views on materialism and relationship with money might be very different than some other people here. Definitely they are different from most everyone I personally know. I am a firm believer that everything you own, in some way owns you. The more expense - the more the thing tends to own you. So that will come into play. But yeah, I like what I have seen of the JLU, tried to see one locally last weekend but dealership must have sold it. Plan to see and test drive - and maybe buy one. Go Jeep!