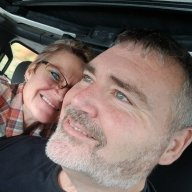 First Name

Ted
Joined

Aug 3, 2018
Messages
Reaction score

8,264
Location
Vehicle(s)

JL Unlimited Rubicon
Occupation

Retired from Corrections....I have stories.
That sounds like a fantastic shop and very cool Gladiator build. That is great that she got all that done on the sly is extra cool. You will have to let us all know what you think of the 5.13s . Are you going to bigger tires and that is driving the change in gearing or are you trying to take better advantage of the upper gears (7th and 8th in an automatic or 5th and 6th in a manual)?

I was kidding about the first upgrades being free as I was thinking about the old drug PSAs about dealers giving you the first things free and getting you hooked.
My JLUR is already running Cooper STT PRO 37s. I liked it even with the stock 4.10 gears, but when I started pulling a small camper across the country and loaded down with gear, I got to thinking that a gear swap was in the future.
So I had talked to Ken about a gear swap a couple months ago and told him it may be something that I would do in the spring. Note, the JLUR is not a daily driver and usually only comes out in the winter to go off roading. So I was in no big hurry. My wife knew that I was squirrelling money away for the gear swap. Side job here and there and photography work and such. Even picked up a job plowing snow for the winter. No hurry as I figured I had at least four or five months before I wanted it done and did not want to pull it out of savings. Well my wife unknown to me about a month ago, pulled money from her fun account and got ahold of Ken and set it all up.
I will provide feedback when I get the gears installed. It will be after the first of the year as we are going wheeling in Kentucky for a long weekend.
This is Ken's Sema build in 2018. The Chief. It has a Cadillac drivetrain and is supercharged. Everything works like new on this retro build.