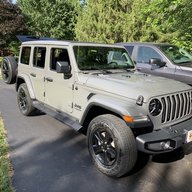 First Name

Mark
Joined

Jul 28, 2020
Messages
Reaction score

11
Location
Vehicle(s)

2020 Sahara
Hi All,
Yes, groan, another steering question, and for my first post too.... suppose i should go post on the Welcome thread first.
Anyway, it was my wife's dream from when she first learned to drive to own a Jeep, and now finally some 30 years later we've got the opportunity! Picked up a 20 Sahara Altitude a little over a week ago, Sting Grey with Sky Touch. It is a thing of beauty. Found it on a dealer lot about 2 hours away, it had just came off the truck, build date of 7/20, had 5 miles on it!
We take it for a quick test drive, all seems well, we sign the papers and we are off, heading back home. I'm in my Ram 1500, she's following in the Jeep. After stopping for dinner, she says that the drive was frankly terrifying. She felt like she was all over the road and had no control. We were driving back from Baltimore area, through lots of road construction and traffic. It was an unfamiliar area, with an unfamiliar car, so we chalked it up to that.
I drove the remainder of the way home and it really wasn't a fun experience. I don't think it was terrifying, but really wasn't all that enjoyable.
I checked the tire pressures when we got home and realized that yes, as a lot of others reported, they were way too high. Over 50, actually. Lowered to 38, per door panel, and eventually down to about 35.
The Jeep drives better now, but it still wants to wander, and the question is how much is normal for a solid axle, and how much would be considered a defect. My wife indicates that the way home from work is far worse than the way to work. Its been super hot here in the Philly area lately, in case that has anything to do with it.
But now I find myself obsessed with the steering, ready to swap out the track bar, install some magic stabilizing brace cause i saw a few youtube guys promote it (further reading on that Synergy brace makes me realize i do not want to go down that route) and do whatever else i need to make it acceptable to drive, when it occurs to me that I shouldn't have to do that for a brand new 50k vehicle.
So, what should normal steering on the JL feel like? I loathe taking a car to the dealer for them to tell me nothing is wrong, so if there is something wrong, how can i defend/prove my position? Never had a solid front axle before, and I currently drive a 2016 Ram. The Ram ride/steering is light-years better/different than the Jeep.
(sorry, long winded)