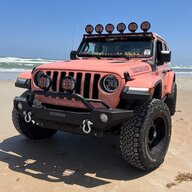 First Name

Alex
Joined

May 31, 2019
Messages
Reaction score

17
Location
Vehicle(s)

2018 Jeep Wrangler Sahara
Was at my dealership today exploring trading in my '18 JLUR for a '21 and hopefully in Nacho but that color, along with Hella is no longer an option. Weird since I was able to build one on the Jeep website last night. Not too surprised as they're limited colors but the timing sucks. Was looking at the extreme recon package for a '21 but the those color choices are no longer on the dealership drop down selection when building. Anyone hear anything or have loved ones working for FCA that can chime in on potential orange or yellowish colors for '22?

Edit - Check the order guides dummy is what I should have told myself. Guess 3.5 years of not looking at one will make me forget.
yup, I want to order a Chief Willy's months ago and wasn't able to. I had been waiting for it since they had it on the JK in 2017. Thoughts on if it will come back next year?
Where are the ordering guides for August? I'm intrigued by this pink color… don't judge me.