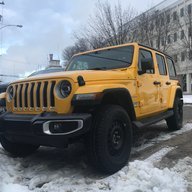 Joined

Oct 22, 2019
Messages
Reaction score

243
Location
Vehicle(s)

2020 JLUS, HellaYella
Can someone help me figure out what's going on? JeepCares need not reply (I'm in Canada).
We brought home my 2020 JLUS just before Christmas. The following have happened once, and only once unless otherwise specified.
On day two or three (I think two) I was waiting in the intersection to turn left. The Stop/Start activated, resumed when I took my foot off the gas then activated again. I got a warning about the ESS then the Jeep shut right down and I was stuck in the intersection for about a minute and a half before I could turn off the ignition and restart the Jeep.
Service 4wd system
Airbag warning
LCD wouldn't turn on (stayed black)
FOB didn't work (neither did the buttons on the door)
Customs dash buttons not holding (ie. set the middle to time holds when I set it, but resets to default when I restart the Jeep). They eventually do hold, but I have to change them 3-4 times before they stick.
Resetting the odometer to zero at fill up. Same as custom settings. It resets to 0 then resets back to whatever the number was before the reset the next time I restart.
Park sensors unavailable (this one's constant but they often still work, regardless of the message... I suspect this is a problem with the spare, but it's odd how they still work even with the message saying unavailable)
There was a few other small warning messages but I can't remember them all (they must not have concerned me too much.) I'll ask my husband if he can remember what they were and edit my OP if needed. (If for no other reason than to have a record.)
But then a couple of days ago I got an email. "ALERT: Your 2020 Jeep Wrangler has detected an issue that requires your attention." This is what the email showed (Powertrain malfunction indicator light), but when I loaded both the webpage AND my app they both show as no problems found. There was also no warning light on the dash of the Jeep.
It's like one message after another, and they never reoccur. Everything drives fine… no more ESS issues either (thank goodness), but this new one definitely caught my attention.
Thoughts?