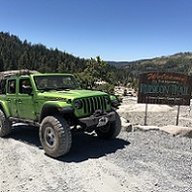 Joined

Jul 30, 2018
Messages
Reaction score

918
Location
Vehicle(s)

Mojito JLUR
Vehicle Showcase
Just wanted to put this out there as a warning to be wary of this and inspect your fuel lines. In now way am I knocking
@Artec
however hopefully they can look into this issue further and possibly take some action. To my knowledge I haven't seen anyone else have this occur to them however it only takes 1 to possibly cause a fire and other ramifications.
I have had the Artec Skid plates on the 3.6L engine JLUR for about 3 years and over 25k Miles. A lot of wheeling has been done in both 100+ and below freezing conditions. Never had any issues with the skids and will still be using them in the future. Recently my Feed line from the gas tank to the engine burst and had to be replaced.
We were snow wheeling at the time and coming back into camp and the fuel line burst causing us to lose power and careen into a ditch almost crashing into a few trees. We attempted to restart and fuel started gushing out from underneath the vehicle.
The fuel line burst next to the transmission and we were able to patch it up however we worked with the dealer in replacing it. The dealer did cover it under warranty but they believe the issue is the aftermarket skid plate and suggested that it can reoccur in the future due to lack of bracing.
The factory fuel skid plate has an attachment point that connects to the fuel line to prevent flex of the plastic lines. The artec skid does not have a provision for this front clip. IF you look at the picture below the first picture is from artec's install video showing the clip you need to remove. IF you look to the left of it you see the vertical plate which is also visible in the second picture taken from the front. I was dead in the water and had to get towed back into camp and we were able to resolve this issue with a male/male 3/8 nipple as shown in second picture.
I will now be looking into how to properly attach this to a bracket to prevent this in the future.