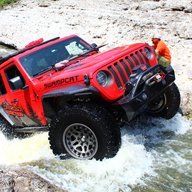 First Name

Steve
Joined

Mar 2, 2018
Messages
Reaction score

261
Location
Website
Vehicle(s)

2018 JLUR
Build Thread
Occupation

Google Data Center Maintenance Program Manager
Vehicle Showcase
Hey Y'all!
I'm posting this to see if any of y'all with WARN ZEON winches and the Advanced Wireless Remote are having issues similar to what I've experienced.
Ever since I installed my winch (in Summer 2017), I've had pretty poor LiOn battery life on my remote. I usually leave it in the center console, unplugged. On trail days, I plug it in before I get out to air down, and I leave it plugged in all day unless I'm using it. At the end of the day, I unplug it and turn it off after airing back up. But it was always dead the next time I hit the trails.
After having this happen a few times, I made a point to check it every couple of days when it was off in the center console, to see how long the battery lasted on a full charge. To my surprise, even though it was fully charged when turned off, and only turned on to check battery life, the battery only lasted a week or so.
Fast forward to wheeling last weekend, and I needed to use the winch, but the controller wouldn't turn on at all, even after being plugged up and charging for several hours. Tried multiple charging cables and ports... nothing. I called WARN the next day, and they agreed to send me a free replacement battery, but I was surprised to learn that the expected lifespan for these batteries is only 2-3 years (including however long it sits on the shelf before you bought it).
This is pretty big design flaw, in my opinion, for two reasons:
1) Without this remote, these winches are useless. There's no way to physically connect a remote to a ZEON Platinum series winch, so I would have assumed these wireless remote batteries to be MUCH more reliable (especially considering how much they cost).
2) These batteries aren't easy to come by, and can't really be swapped with any similar type of battery. In fact, based on the research I've done so far, these batteries seem to be a design/style specific for WARN. So even getting a spare (or two) to #goprepared would be difficult (edit: Although you can buy a whole new remote from Amazon).
If any of y'all have had similar experiences with this remote, please post in this thread. I've seen some reports of similar issues in a Taco forum, so if this is as widespread as I think it is, I'm hopeful we can get WARN to do something about it. Because I'm gonna be getting a new winch if this remote continues to be as unreliable as it has been.
UPDATE:
I removed the links for the batteries and chargers I had listed here because they have 2-pin connectors, but the WARN remote uses a 3-pin connector.

Last edited: