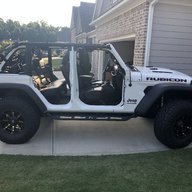 First Name

Stephen
Joined

Jan 29, 2019
Messages
Reaction score

198
Location
Vehicle(s)

19 JLUR
Vehicle Showcase
I think I've searched and found other related topics but not this specificly. I have the premium soft top on a JLU. With any combination of windows down and over 70 mph, the back around the rear sub makes a loud flapping / ratteling sound. Could even be the rear window. As soon as the window(s) go up it stops. No problems 0-68 mph.

I would think it has to do with same experience as when the rear windows are down in a car. Pulsating throbbing vortext effect.

My question is does anyone else experience this?

Maybe it's just aerodynamics and physics?

I just like riding with windows down in the low humidity and sometimes it not as feasible to take the top off.

Just curious if it's just me or perhaps theres a fix with dynomat on all the plastic or something.

Maybe I need to see exactly where the sound is coming with a helper.