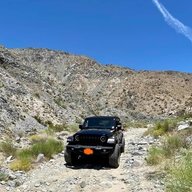 Joined

May 29, 2019
Messages
Reaction score

5
Location
Vehicle(s)

'18 JLU Sport S
As the title says, I'm experiencing a vibration in the steering wheel at highway speeds, but only really on the edges of the dead spot. It occurs when applying pressure to the steering wheel to correct for drift in the lane, usually between speeds of 55 and 65, both to the left and right side. I've got a JLU Sport S, installed the JKS JSpec 2.5" lift with HD Springs, their fixed LCAs, and 35s on some pro comp steelies (weighing in at about 110lbs a piece). I just had the dealer balance the wheels when they did the tire rotation (gotta use the oil/tire rotations while they're free) but the issue is still there.

Between reading tons of posts and watching videos, plus generally not being happy with the looseness of the steering prior to the lift and tires, I've got the synergy sector shaft brace, drag link and tie rod on order. I'm hoping that when those come in and I get them installed it'll help with both the loose steering and the vibration.

Has anyone else experienced this? Could there be something else at issue here? I've got about 23k miles on it now, but only had this set up for about 4k....usually I'd say I don't think the ball joints would have gone bad at this point, but based on the limited slip diff going bad and ending up with a new rear axle assembly, who knows.

Any thoughts or advice would be welcome.