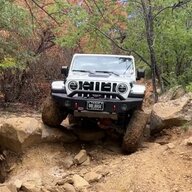 First Name

Brad
Joined

Jul 18, 2020
Messages
Reaction score

877
Location
Vehicle(s)

2020 JLU Rubicon Recon, 2021 JLU Rubicon
So we had last weekend free and decided at the last minute to go exploring Ouachita National Forest in Arkansas. We've been to Hot Springs many times and always made a point to drive out through the NF. This time we decided to go specifically for the NF. We left the DFW area Saturday morning, enroute found (the nearest available) AirBnB in Nashville AR, and arrived around 5pm. We got dinner at a local pizza place, talked, and passed the time until morning. That evening I was looking for named trails and the BoH trails at Hot Springs OHV kept coming up so we decided to go there.
We checked in and got the intel from the lady at the counter. She recommended we start with Snake (middle circled in Red) as it was their easiest with a two diamond rating, then follow the trail around to Fun Run (top right circled in Blue) which has a three diamond rating. Come back to the entrance, hit the restroom, get lunch, then on to Rubicon Ridge (bottom circled in Black) which I believe also has a three diamond rating.
So we head out on Snake. It seemed a lot more windy than the map would suggest and you were in what amounted to a trench with slick clay and rocks on the bottom with trees and stumps on either side. Each turn would lean you over pretty hard and there was usually a torn up tree with gnarly roots sticking out right next to your door.
Then we get to the split in the trail... This is normally supposed to be the hard or easy side but it was more like the impossible left or hard right side.
Took the right side and still had to use the winch to get over that one rock since we just couldn't get any traction.
So after we finally scraped our way to the end of the trail we took the first one out that we could. My thinking was - If that was a two diamond, I don't think a three diamond is gonna happen without body damage. We go back to the front office and I ask the lady at the counter if I punked out having to use a winch on such an easy trail. She says - Oh I forgot to tell you, there was a washout at that section and we haven't had a chance to get the bulldozer in to fix the trail, so it's really like a hard three diamond.... =/
She also explains that the last one, Rubicon Ridge, you have to "drop into" meaning you can't turn around and get out of it even with a winch. Ok good info.
We make lunch, talk it over and figure, if Snake was really a hard three diamond then we can probably do Fun Run which I suppose is a
normal
three diamond trail. The twists and turns weren't near as bad but the rocks in the trail were far worse. Keep in mind, we have to drive 4.5 hours home after this.
This steep section wasn't too bad as long as you didn't stop.
After Fun Run we decided to call it on account of not wanting to destroy our ride home. Once we got home I was poking around in the Jeep Badge of Honor app and noticed the difference in ratings.
HS-ORV J-BoH
Snake
2-4
Fun Run
5-7
Rubicon Ridge
3-6
By Hot Springs ORV parks ratings - Fun Run is the same difficulty level as Rubicon Ridge. By the Badge of Honor app rating I would say Rubicon Ridge looks
easier.
Maybe one day we'll go again and give it a shot for that last BoH.