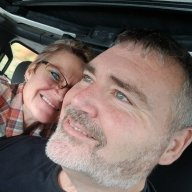 First Name

Ted
Joined

Aug 3, 2018
Threads
Messages
Reaction score

24,117
Location
Vehicle(s)

JL Unlimited Rubicon
Occupation

Retired from Corrections....I have stories.
So we expected to leave for a 11+month Jeep traveling, wheeling, camping and hiking trip January 1st. Note it is now past January 1st. So we were nearly ready to leave on January 1st, but nine months ago, one of our traveling partners daughter threw a wrench into our plan. She had sex. Yup sex, note she is in her early thirties so not really that amazing, but she got pregnant and her due date was December 28th. Still no baby. Baby is running late. Can't really leave and say hey catch up when you can or expect him to miss the birth of his granddaughter. They are going to induce her on Monday or Tuesday so it should be go time.
So the weather here in Michigan was warm for the 1st of January and we packed the Jeep and camper up. Late yesterday and last night it snowed and the road turned icy. Probably luck that we delayed leaving to our first stop in Kentucky for a badge trail and the weather there was shit also.
So we sit in a house with zero food as we donated it all as I we did not want food in the house while we were gone. Can you imagine the furnace stops working, can goods freeze and explode, the weather gets warm and then open can goods sitting in a hot house all summer. Yuck. We will need about an hour to drain the water out of the house, shut off the well, and winterize the house fully. We have sold off the extra vehicles and toys, and can pretty much walk away from the house for a year. I have taught the neighbor how to use the tractor to plow his driveway, part of my driveway and my sisters driveway. My sister is mowing the yard and doing yard work while we are gone.
I had meant to do some Youtube videos prior to us leaving, but it took 5 months to get a different bumper for the Jeep, then the locker failed and that took 4 weeks to get fixed, got the Jeep back and the bumper on about two weeks ago, then last week, the Jeep started throwing codes, so it was at the dealership for a week. It had a leaking valve cover gasket that was dripping on to an O2 sensor. They fixed that under warranty. I have approximately 600 miles before the Jeep is out of Warranty. Usually that stuff happens just out of warranty. So I did not get the Jeep back until December 31st. Brought it home, hooked the camper up and got it up by the garage to be loaded. So we are ready, maybe call my bud and tell him take her for another Jeep ride. There will be some Youtube videos, and introduction, some walk around of our Jeeps and campers, and tales from the trails as we travel from Michigan to the Mexico border then to Dead Horse Alaska and back to Michigan. Wheeling, hiking and camping in all of the states west of Texas while going north. Six years of dreaming, three years of honing our skills and setting up our Jeeps have lead to this point.
Can't wait to head south.
If we left yesterday, zero snow, woke up to this. FUCK.
The Jeeps and campers that are going on this adventure.
Since we are leaving on Tuesday, I have to throw this video on here because I often have people that follow me will say that looked like an awesome vacation and I always say we are not on vacation, this is just what we did on Tuesday.
I have 158 pins dropped on a google map fro the trip. This does not include any of the places we plan to wheel like badge trails or any of the wheeling and exploring while in National, state or BML areas. We know that we will not be able to hit them all in 11 months, but it gives us options.
I will build a thread as we go.
This is a thread link that I did back in September about this adventure if you missed it.
https://www.jlwranglerforums.com/fo...-boarder-to-dead-horse-alaska-and-back.79295/
Just know that there will be YouTube video about sewing a quilt on a mountain pass sometime during this trip as my wife is bringing fabric, and a sewing machine with her and like 23 different pairs of shoes.