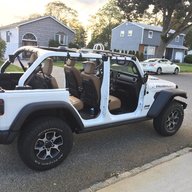 Joined

Aug 16, 2020
Messages
Reaction score

374
Location
Vehicle(s)

2012 Mahindra Thar (in India) - 2.5L Diesel, 4x4, 5 spd Manual ; 2020 JLU Rubicon (in USA) - 3.6 Gas with 8 Speed Automatic
Occupation

Family business in India and USA (dual citizen of both)
What I am about to say can be deemed extremely controversial but I might as well lay it out. After getting jerked around by dealerships on Long Island, I am considering to not get this fixed. Why? I am a Millenial and we tend to be one of the most distracted drivers! my other vehicles do not have fancy electronics like Bluetooth. Guess what? I was on my phone a lot texting or calling on those vehicles. I would do dumb stuff like adjust the radio and then brake hard. There! I said it and I admit it!

Due to this steering issue, I actually dropped the phone and stopped playing with the radio on the highway. This in turn has made me become a lot safer. My concern is that if I get this steering fix, I may slowly go back to my old millenial ways.

i know what i am saying is controversial and may raise a few eyebrows and posts criticising me. I am just lucky that in the last 10 plus years I have been driving like an idiot, I have not gotten into a crash. Hoping it stays that way and this Jeep with it's wandering steering may help me become a safer driver. Thanks to all the Long Island dealers for jerking me around with this TSB!

PS: The steering wander is nothing strange to me overall as our local made cars back in India are no where near as safe as Foreign made cars. Some of the issues we have in India make a wandering steering sound like a first world problem. Mahindra has an SUV for example called the Bolero in India. It is a 7 seater without Airbags, ABS or Power Steering. The shockers suck and you can really hear that Bolero go on a HWY at 60 MPH because there is no sound deadening of it's Diesel Engine. Guess what? PEOPLE LOVE BOLEROS IN INDIA. And I lived despite driving Bolero's in India so many times! A Bolero is just one example. Remember the Tata Nano? That little Engine would Spontaneously Combust. It had a frame weaker than a bicycle. There are countless examples of cars legally driving on Indian roads that will not even pass a basic safety check in Mexico (let alone USA, Canada or EU)

please do not eat me!