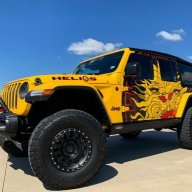 First Name

Michael
Joined

Jul 10, 2020
Messages
Reaction score

138
Location
Vehicle(s)

2017 Renegade; 2021 JLUR on order
Backstory to this is I've currently got a 2021 yellow Sahara on order. It's built, and in transit to the dealer. The dealer has been horrible w/ customer service, and I've not been able to actually negotiate a sales price on it. I'm getting annoyed w/ them, and happened to be out of town today, and ran across a 2020 Rubi that's yellow as well from another dealer. Thought I'd stop in, test drive, see what was up.

It's listed as MSRP of 54,495. The website say's they're offering a discount of 1,635 off that. Went on the test drive, and it was good. Didn't have all the features I wanted. I was willing to live with that if they'd give me a good offer, and I'd add/change what I could afterwards. Being a 2020 figured I could get a good deal. I see people on the forums getting anywhere from 1%-8% below invoice.

During the drive he tries to explain all the bs stuff they added as the dealer. Some tracking feature...some type of glass coating that increases strength 80% (he said something about withstanding a bullet...sound like a lot of bs to me)

I have a trade in, they looked at that, and said they'd do $15,000. I was fine with that, as that's what Carvana said they'd let me sell it to them for.

Went to talk price, he came back with some bullshit $500 off the MSRP. I asked him about the website price. He said that was if you "qualified" for certain offers. So he pulls out a sheet....college grad, military, etc, etc. Goes through it and I got the college grad, an another that was $500-1500. Asked him what determines that. He didn't know...went back to talk to the sales manager again.

Came back, said he shouldn't have pulled out that sheet, as that was only when special incentives were offered, and there were none right now, but they'd do the -$1635 from the website. Ticked me off a bit, but wasn't surprised. Car dealerships are so shady.

Anyway, he immediately starts trying to ask me about monthly payment. I tell him that's not a concern, the concern is the number at the top...the price of the Wrangler. I ask if that's all he could do, and he said yes. So, told him we'd think about it over lunch, and if we decided to do it, needed to call the other dealer to tell them we wouldn't be getting the ordered Jeep, just to make sure there were no repercussions. (They didn't even take a deposit, so pretty sure there wouldn't be)

Go to lunch, and I pull up the April 2020 order guide and figure out the invoice price. It's $51,406. I feel at the very most, that's what I should pay. Again, given the deals I've seen here, something below that doesn't seem unreasonable.

Called him back, and explained I had the order guide, found the fleet price, gave it to him, and told him I wanted it 3% below that ($47,807). Figured that's a good starting point. He went in again about their "upgrades" they added, and told him those had no value to me and was a risk they took when they put them on. He had me text the numbers, then he sent a bunch of texts that made me think he was confused about what I was asking, so we went back.

Explained again to him. He went to the manager (stayed back there for a good 5 mins), came back and just said "he's not willing to do that" No counter offer, nothing. Then he said that if we find someone that will do that, let him know so he can let his manager know he needs to be more aggressive on pricing. I explained I've seen all kinds of people online getting great deals like that.

So, thoughts? What'd I miss? Was my ask too aggressive? Keep in mind I'd like to get a similar price off invoice on what I actually ordered, so any tips would be helpful. And again, the other dealer seems like a pile of steaming crap too.

Summary:

$54,495 MSRP
$52,860 was what dealer wanted.
$51,406 was invoice price from April order guide.
$47,807 was what I was willing to pay. Not even a counter offer here.