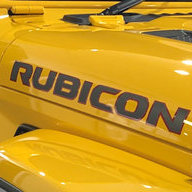 First Name

Brett
Joined

Jun 28, 2019
Messages
Reaction score

122
Location
Vehicle(s)

JL Wrangler Rubicon Diesel, Hella Yella
Looking at fitting a Redarc Tow Pro Elite V3 for the purposes of towing a camper trailer. I view with interest how easy it is for those in the US with the tow pack to simply locate the factory plug under the dash on the drivers side and plug the controller in.
Unfortunately no such luck on the Export RHD model. Even with the 'Enhanced Electrical Package' there is no tow pack loom. The fuses are in the fuse box, but somewhere in the harness, the connection stops. (Come on Jeep, Brake Controllers in Australia are a legal requirement for trailers over 750kg. You don't make it easy.)
What I have found, and since seen other posts on the subject, is a loan wire taped up under the passenger side, close to the AUX wires. Once the fabric tape is stripped back, you will see it is a dark green wire with white stripe. This is the connection point in wiring diagrams noted as 'Brake Signal 1'.
In the wiring diagram, these wires are shown in the 'Upfitters.pdf'. The Aux connection points (6 wires) are shown as 'Upfitters Accessories 1'. The Brake Signal connection point (1 wire) shown as 'Upfitters Accessories 2'. This wire sits around 0V at standby and goes to around 12V when the brake is applied.
Four wires are involved in the Brake Controller connection.
1. Brake Signal - Dark Green/White wire as explained above
2. Power (30A fused or circuit breaker). Will probably use one of the 40A Aux points and swap the fuse to 30A
3. Controller output to trailer harness. Will run a cable from the controller to the Blue wire in the Hayman Reese wiring harness
4. GND
Hopefully this makes for an relatively easy installation. The brake signal wire is always a tricky one. With modern day vehicle electrics, connection to the brake switch is no longer an option.