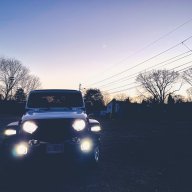 First Name

Breanna
Joined

Mar 29, 2021
Threads
Messages
Reaction score

12
Location
Vehicle(s)

2020 Jeep Wrangler 2 Door Sport S
Hello,
So, like any Wrangler owner, I purchased new tires and wheels for my Wrangler JL. When I did this, I did not purchase sensors because I just wanted to transfer the ones I had because I know the Jeep would read them without any problems. I got the tires and wheels shipped to a nearby Firestone. They were already mounted and balanced and just needed the sensors to be put in. I proceeded to tell them this three times; when I dropped the car off, when they called me to pick the car up, and when I got there to pick it up. Well, they let me drive away without putting the sensors in my wheels... and I didn't find this out until I got on the highway and my tire light came on.

Now I work at a dealership (not Jeep) and they proceeded to tell me I could put aftermarkets in the new ones and leave the old sensors in my stock wheels that way it's not a pain to switch up wheels in the winter. Well I purchased the aftermarket sensors and my dealership was kind enough to put them in. Well they are not reading with my Jeep and I'm very confused as to why. I was told I need a tool that had a capability to program 2020 Jeeps so they sensors will read with the car. Is this true? Or do I need to just bite the bullet and get the Mopars?

Do I need stock sensors or can I stick with the aftermarkets?

P.S. I now want to keep the old sensors in the stock wheels, one, because I don't feel like bringing all 5 tires back to Firestone and two, because I do think it's a good idea when switching them up for winter so my nice wheels don't get ruined.