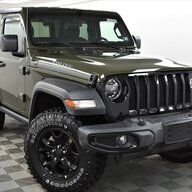 Joined

Mar 16, 2021
Messages
Reaction score

561
Location
Vehicle(s)

'21 2DR Willys 6MT
God dammit.

A semi's brakes failed behind me while I was at a red light. He got me good. But after a night at the hospital, i'm fine.

You'll understand that I was a bit too busy being strapped on the stretcher to take pictures. But police say he probably ran into me at 75km/h, or something like that (that's about 47 for you, Americans).

Insurance just called: total loss for my brand new Willys. Told me that semi crushed the entire back on the Jeep to about half of its length before I got KO'ed (woke up about 3 minutes later, standing on what witnesses said to the cops).

So bad news: i'll have to order a new Jeep. With that production hell, I don't know when i'll get it. 5 to 7 months seems to be very possible.

Good news: i'm fine and i'm a Canadian, so that hospital bill is covered.