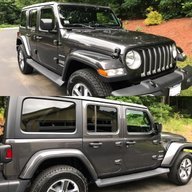 First Name

toni
Joined

Jun 29, 2018
Messages
Reaction score

42
Location
Vehicle(s)

jeep wrangler unlimited jl
I have a Ram 3500 with an aftermarket bumper on it, that I put a winch on. I put it on not because I plan on going anywhere in that vehicle that I would get stuck (it's a beast - but not an offroad smash-around vehicle) but put a winch on it because I like helping others.

In the 4 years I've had the winch on the truck, I've probably used it at least 5 times to help pull someone out. My in-laws live up in Iowa, and I've pulled more than a couple people out of snow drifts, buried to their axles. I could have done it just the same with a tow rope - but for me, a winch is controllable, safer than snatching someone out spinning my tires.

I've also pulled someone out of the ditch on the side of a highway entry ramp; was raining, he came around too fast, wound up bouncing over the curb and deep into wet grass in his 2-wheel drive pickup. Buried himself deep in some mud. I hooked up to his 2" receiver hitch and winched him out zero problem.

Not once have I gotten that truck stuck somewhere and used the winch for me - it's always been to lend a helping hand. I would vote that if you had the financial capital to do it and were considering a winch, I'd get it; peace of mind for yourself is a bonus.

As for 'learning to winch', I donno; it ain't that complicated. Sure there are nuances and things that could get you in trouble, but basic winching is hooking up and sensibly pulling in the rope. I use Factor55 adapters (no hook to screw up on me) and synthetic line (no recoil if the wire breaks) and I believe those two changes save me from a lot of possible errors. I've watched a couple videos to understand, and spent 28 years in the Army hooking stuff up and pulling it out - so mebbe I have an advantage. but it never felt overly complicated.

One thing of note when helping others - have THEM hook to their vehicle. I always assist but they are responsible for hooking to their vehicle. My dashcam / cell phone is recording. If something looks unsafe I won't winch; but if they're stuck in backwards-out, you can usually use their hitch (if one exists) to pull from. It's never happened to me, but in today's litigious society I suppose you can't be too careful when offering a lending hand.

anyway, that's my 2c - I vote you get the winch. You never need it until you need it - and then it's too late to get it.
Thanks for this extra info. I've been watching YouTube videos on how to use a winch to free myself but never thought of possibly helping someone else with it.