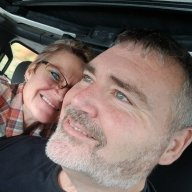 First Name

Ted
Joined

Aug 3, 2018
Messages
Reaction score

10,284
Location
Vehicle(s)

JL Unlimited Rubicon
Occupation

Retired from Corrections....I have stories.
So up wheeling over the weekend and been in 2wd all weekend. The trails are sandy and no real threat of getting stuck..... well or so I thought.
We are leading the pack as normal. Enter a water hole and bam stuck we are. Out comes our kinetic rope. The 2nd Jeep drives around the water hole and hooks up to pull us out. We are not super stuck. Should be an easy recovery. My bud gives it a yank and the kinetic rope breaks.
Turn up the sound. It sounds like a rifle shot through the woods.
The rope come back to my Jeep and destroys the winch control box, and winch solenoid. Then hits the grille and bust the grille insert and caves in the AC condenser. I unhook the positive cable to winch to ensure that the exploded wires do not turn the winch or or ground out the battery. Luck is on my side though as the A/C condenser is not leaking and we still have air. We continue wheeling the rest of the day without issue.
A/C condenser
Grille insert
Winch Control box
Get home and today, finish ordering everything I need.
Bought a new Warn winch to replace the Smitybuilt X2O. The cost to get a new control box,, solenoid and wireless control module and I had planned on replacing the synthetic rope in the near future, it just made sense to upgrade to the WARN and have a new winch. The Smitybuilt had served me well, but I just could not see dropping approx 400 to 450 into the Smitybuilt winch when that money could be used to upgrade to the Warn.
I bought this for a winch $840 of Amazon. About $50 cheaper than anywhere I could find it on the web.
Warn VR EVO 12-S Winch with Synthetic Rope
I ordered a new Gladiator center grille insert. $23 at the dealer. I could find it for $13 on the web, but by the time I added shipping, most places were at the $45 range. Score one for the dealer.
The new A/C condenser was $54 + shipping and total cost was $75. I will still have to pay someone to drain the old system and recharge it after I install the condenser so there is no total cost on this.
Bought a new kinetic rope from Factor 55. Cost $170
Just the cost of wheeling.
Some pics leading up to it and the weekend in general.
Pic of the Jeep and camper heading home after the weekend.
out on the trails
Drone flight through our base camp at a lake that is off the beating path in Northern Michigan.