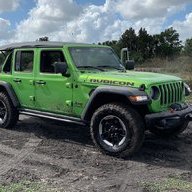 First Name

Bob
Joined

Dec 3, 2018
Messages
Reaction score

910
Location
Vehicle(s)

2018 Rubicon
I am using the Ready Brake Elite tow bar with the loops. It was a pain in the ass because the loops are too high and tight to the bumper but Ready Brake (NSA) made custom tow loops at no extra charge. I know the Blue Ox works because another person I know has them, but Max3 told me they were changing the loops a few months back to an upgraded loop which should avoid tow bar clevis issues. Make sure you get the new ones, and yes it's the only options for Jeeps with winches that I found. The loops are fine, a little tough to install just because of limited access to the bolts internally, but do the loops BEFORE any winch plate. Once you install the winch though and put the bumper back on it's hard to get to those 4 inside bolts because the winch is in the way, but it can be done with some patience.

Yes you have to cut the bumper and skid plate, unless the new model tow loops don't require the skid plate to be cut. It wasn't hard, but I did go buy a Makita grinder cut off wheel tool at Home Depot for this. It has come in handy on numerous projects though. Max3 customer service is great by the way.
Thanks. Too
Late thought, the winch is already there.
Rusty's winch plate will work with the BlueOx tow plate (they say it won't, but lots of examples here in the forum of people who have done it and I've see. One in person) but I prefer the Maximus loops. Plus the the Maximus loops act as recovery points.