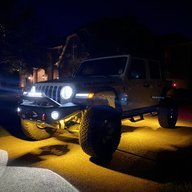 Joined

May 21, 2019
Messages
Reaction score

333
Location
Vehicle(s)

2019 JLUR
First of all, apologies for the long trip report, but I felt that the trip report must match the quality of the detailed feedback I received from this community during the planning phase.
Day 1, Nov 22nd :
Depart Dallas 11:30 AM heading to Page, AZ (1050 miles).
Packed and ready to go:
We were warned not to leave our rig unattended due to risk of theft along the way in Albuquerque, but we experienced our first loss at a gas station in a small town in Texas where our leveling blocks were stolen from the roof rack of the Opus, even though they were in a bag. A quick grab and go situation and that we only noticed while we were driving later and noticed the bag flapping around in the wind because it was zipped open. Luckily the ZAMP 180W solar panel and the camp chairs that were in the same bag were untouched because they happened to be held down tight by the Stratchit's from Frontrunner
We made it all the way to CIBOLA National forest (~650 miles) before we had to stop for the night. We found a wild camping site using the iOverlander app and setup camp in the dark. Considering it was generally off-season, we didn't really see anyone there with the exception of one truck passing by. This was our first night wild camping and I have to admit, was a little spooky. The temperature was hovering around the low 30's so we quickly got into the Opus and turned on the built in Dometic propane furnace. This kept us warm and toasty all night and at times almost felt too warm.
Camping in Cibola
Day 2, Nov 23rd:
We woke up the next morning to a beautiful sunrise and packed up to make our way to Page. We had a little fox cross the street as we were getting off the mountain. This was an unexpected surprise that got the kids excited and looking for more wildlife. A quick stop at Starbucks outside of Albuquerque and we were on our way.
Our next stop was at the Petrified Forest National Park outside of Flagstaff. You drive through the park in your own vehicle stopping at various sights. The visitor center has maps that provide a lot of information about the sights. This park is known for its fossils, especially the petrified wood logs, which are fossils of logs from trees that lived approximately 225 million years ago. You can also see some petroglyphs here at the archeological site called Newspaper Rock which has over 650 petroglyphs. This was an unplanned stop for us, but definitely deserves a full day if you have time to spare.
After spending a couple of hours at the Petrified Forest National Park, we continued to Page, AZ, where we were to meet our friends from NJ. They were flying to Las Vegas, renting a Jeep and driving to Page to meet up with us. We finally got to Page around 8 PM and checked into the Hyatt Place. The hotel itself is nice and clean with a decent view of the mountains. The hotel is also pet friendly, which was a pre-requisite for us.
Day 3, Nov 24th:
After breakfast and getting some guidance from the hotel staff (who by the way were extremely helpful), we decided visit the Glen Canyon Dam which was less than 5 minutes away from the hotel. They had a nice guided tour there and we got lucky that there was availability, but it is recommended that you make reservations if you want to take the tour.
\
We then proceeded on to Horseshoe Bend. This is just a short drive from the dam. While a very iconic location, it was extremely popular and very touristy. In fact it is so popular now, that there is a gated parking lot that charges $10/ vehicle. You park the vehicle there and take a short hike to get to the location. Horseshoe bend itself did not disappoint. We just wished we went there much earlier in the morning, before the crowds arrived.
By now, it was time for a late lunch. We drove to the Lone Rock beach area (UT) to spend a few hours where we cooked some lunch (Pasta)using our Jetboil system and hang out for the afternoon. The Lone Rock beach area is one of the few areas around Lake Powell where you can drive onto the beach and camp right at the waters edge. There is an entrance fee to enter the area which is waived if you have the National Parks Pass. You can also buy the pass there. There is a fee of $14/ day if you would like to camp overnight. This fee is totally worth it. This is a fantastic location and will be our first choice if we were to come back to the area in the future. The kids and the dog played on the beach for a bit and we waited to watch the sunset before returning to our hotel.
Sunset at Lone rock
Day 4, Nov 25th:
A few of us decided to wake up early and drive to the Wahweap Overlook to watch the sunrise which didn't disappoint. You get a 360 degree view of the area including Lake Powell, Page, the Wahweap Marina and the mountain ranges and mesa's. Also, this area is open to all with no fee access. Great place to drink your morning coffee with a view.
After a quick breakfast at the hotel, checking out and loading our rigs, we proceeded north towards Kanab in Utah. Our first stop was the BLM visitor center in Big Water. The theme of the Big Water visitor center was Paleontology & Geology. What we would learn later is that every visitor center in the Glen Canyon area has a different theme. They had a few activities for the kids and were very friendly and helpful in guiding us on activities in the area. We also discussed the status of off-road trails in the area and they were somewhat helpful.
We continued on north on Rt 89 towards Kanab and stopped at a trail leading to the Toadstools. It's an easy hike to the Toadstools and about 1.5 miles roundtrip. This was an easy hike even for the kids and the dog. Once there, it truly felt like we were on a totally different planet. Nothing like we'd ever seen before. We had a great time exploring the different areas there and getting some pictures before returning to the trailhead. The best part was that unlike Horseshoe Bend, there were almost no people on this trail and it just felt untouched and secluded
It was time for us to make our way towards Kanab and find a spot to setup camp for the night. We made a quick stop in the town of Kanab at the visitor center where the folks were extremely helpful. Note: This visitor center has a really good map of the area showing off-road trails, major attractions, etc. we found this map to be the best and I strongly recommend you pick a few if you plan on exploring the area. A quick stop at the grocery store in town to pick up some supplies including firewood and pumpkin pie (was thanksgiving after all) and we were on our way to the Coral Pink Sand Dunes campground.
There was nobody at the entrance when we arrived at the campground and the campground was relatively empty. We realized later that we were supposed to use envelopes provided to pay the dues, but we did pay the next day. This campground is $30/ night, which we consider relatively expensive, but it was totally worth it. There were a few open spots and this campground had full hookups. Every spot had electric, water, fire pits and a covered picnic table. There is access to the sand dunes right from the campground and even a tour operator onsite. Facilities were clean and well maintained. It was starting to snow just as we pulled in and we used our Garmin InReach Explorer to check the weather and the hourly forecast showed that it was going to snow for an hour and then stop. The decision was made to trust the forecast and setup camp. This would serve as our base for a couple of nights. We quickly settled into the camp and called it a day.
Day 5, Nov 26th:
We made our way to the campsite office where we met an officer. He informed us of the $30/ night fee which we paid for 2 nights. There is also an extra vehicle fee of $10/ vehicle per night. You are also able to buy flags for off-road use in the dunes and rent dune surfing boards here. We decided to make our way to Zion national park via the Smithsonian Butte Road. This was a fun ~7 mile off-road trail that our jeeps handled with ease.
We arrived at Zion national park only to realize that dogs were not allowed on the trails. In addition to this, the place was very crowded and over flowing with tourists. So we decided to just drive through the Zion national forest and head back to base camp. The sun was almost setting so we decided to make a quick run into the sand dunes to explore for a bit and get a taste of what it was like. We returned shortly after, had a quick meal and settled in for the night.
Day 6, Nov 27th:
The next morning we packed up the Opus, shut down the camp and decided to explore the sand dunes in our Jeeps. This was a great experience and the sand dunes were just pristine. This was the first time either of us had gone off-roading in the sand dunes and it wasn't without a little drama. My buddy managed to get his Jeep stuck and I used my winch to rescue him. This got the kids very excited and they thought it was a lot of fun. We were now extra cautious and we decided to get back to camp.
When we came off the sand dunes, we were met with a park ranger who reminded us of the legal requirement to have flags on the vehicles when in the sand dunes. He took my drivers license and went on his merry way to look me up in his system. A few minutes later he let us go with a warning and acknowledged that he didn't want to ruin our holiday. This was really kind of him. We hadn't purchased the flags the day before because the flags were @12.50 each and we thought they were overpriced. Besides, his the card machine wasn't working when we paid the campsite dues and we had to use cash. Luckily for us the ranger let us go with just a warning and no tickets. We aired up our tires, hooked up the camper and started driving towards Bryce.
It was almost 3 PM when we arrived at Bryce and decided to stop by the visitor center. Unfortunately for us, snow was in the forecast so we decided to stay overnight in Bryce at the Best Western Plus Ruby's Inn hotel to see how the road conditions would be the next day.
We checked into the hotel, had a hot meal and the kids had some pool fun. The indoor pool here wasn't anything great, but it was a welcome change for the kids. We were also able to get some laundry done and restock on supplies. The hotel has everything from a restaurant to a gift store, grocery store and even a post office on-site. This was a basic hotel, but for $81/ night including breakfast, we couldn't complain.
Day 7, Nov 28th (Thanksgiving)
When we woke up on thanksgiving, there were at least a few inches of snow on the ground. There was more snow forecasted for the afternoon. We had breakfast, checked out of our hotel and decided to drive to the Bryce Visitor center to check on road conditions. We quickly realized that the snow wasn't ploughed and the visitor center was closed…it was thanksgiving!!! As difficult as it was, we had to make a decision to backtrack towards Page and to get out of the snow before it got worse. Escalante, Boulder and Capitol Reef National Park would have to wait for another visit to Utah. We made a decision to head to Monument valley.
A little over 5 hours later we arrived in Monument Valley and were greeted with the sight of the amazing rock formations. We found a couple of potential sites to camp on the iOverlander and made our way there. We picked one that was just off scenic Rt 163 and setup camp. We got our little fire pit going (Pop-up Pit) and took care of dinner. It was thanksgiving so we decided turkey sandwiches were an appropriate substitute for a full turkey dinner. Finished up with a slice of pumpkin pie and the kids were ready for movie night. We pulled out the Anker Nebula Max projector, unrolled our built in projector screen (yes, the Opus has one) and got the movie going.
A couple of hours later we were all settled in bed with the lights off and the furnace on, looking forward to waking up to an amazing sunrise, but that was not to be. We were woken up at about 11:30 PM by the loud howling of 40 mph winds. While the Opus tent was intact and I was sure it would hold up to even worse winds, a few folks in our group were a little freaked out. This called for us to switch to Plan B. A quick call to the Gouldings Lodge and we had a big enough room for all of us. We quickly packed most belongings and made our way to the hotel. We got the kids and the wives settled in and returned to the camping spot to close down the Opus and get it back to the hotel. It was almost 2:30 AM by the time we were done with all of this. It was time to call it a night.
Day 8, Nov 29th:
The primary attraction in Monument valley is the 17 mile loop called Valley Drive. This is in the Monument Valley tribal park and costs $20 per vehicle to enter. We were considering taking a guided tour there, but ultimately decided to do a self drive tour, which I think was the right decision. The cost to do a guided tour for all of us would have exceeded $400 and it was unlikely that the kids would patiently listen to everything the guide would have to say.
We got back to the Gouldings, had a late lunch, did some souvenir shopping at the store and headed back to our room. This would be our last night on the trip and we were getting ready to head back home the next morning.
Day 9, Nov 30th:
We woke up early, packed up the rig and checked out the hotel to get back to the Tribal Park so we could see the sun rising over monument valley. This is a must-do activity and totally worth it. We said our goodbye's to our friends and were on our way home to Dallas. We were faced with an almost 950 mile drive that the GPS said would take over 14 hours to drive.
Driving through snowy Arizona