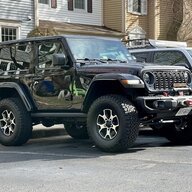 First Name

John
Joined

Dec 5, 2020
Threads
Messages
Reaction score

213
Location
Vehicle(s)

2021 2-Door Rubicon
Occupation

Trigger-puller (soon to retire), dog-father, Jeep enthusiast
First--I love my Jeep. I won't get rid of my Jeep. And I dodged a major bullet by not buying a Bronco IMHO. Just setting that out there.

Finally got to see and test-drive a brand-new Badlands Bronco 331 package yesterday. Came in for a friend after he had given up and bought a Jeep but wanted to test-drive it anyways. Here are some initial observations, not sure if any of you have seen things that you like or dislike after test-driving one as well.

1) Drives like a truck.
2) Interior a mix of good quality stuff (like grab handle on upper corners), and utter trash (like grab handle on center console....totally loose and flimsy)
3) Infotainment is utter, utter, utter trash on the non Lux-package version. Like zero map/nav/offline capability (I use Gaia on Carplay...it does have Carplay), or any other useful screen info. Only a compass. Which is quite frankly fn trash. Utterly shocking to me that you can get a $65,000+ vehicle version with a Ford Explorer infotainment system from about 10 years ago. Good. Lord.
4) Steel bumper group can't accept a winch in the winch-ready box. Dealer (who didn't really know his vehicle anyways) said you have to wait until they come out with a fix or extension to use the winch-ready steel bumper to put a....winch in the winch-ready steel bumper. Sweet!
5)Aux switches (there are 6 pre-wired, ready like the Jeep Aux switches) and buttons are nice but pretty tiny and you'd have to remember what the hell you wired them to. But....6. And ready. Not bad.
6) Frameless windows are pretty cool, same with mirrors that you don't have to replace for road driving in states where it's mandated. BUT...they stick out like crazy and you'd lose them on the trail. Trust me. You'd lose them. 100%. If you don't believe me, please buy one and try it. They are literally a foot outside the vehicle. You might even lose one leaving the Metro garage.
7) Doors off/on....praise bejebus that I got a Jeep. Prepare to lose paint. Hinges are recessed. Good luck.
8) Soft-top had a feature on the back, after opening the tailgate it lifts up with a kick-stand. Honestly, this was ridiculously cool. That's the 1 thing I liked about the Bronco.
9) Recovery points on the front bumper were pretty awesome frankly. THEN!.....totally awesome turned to wtf seriously? as I found that they are forged and un-finished (extremely abrasive, sharp edges on interior holes) and just painted. Kiss anything soft that you might put through that shackle goodbye. Loved the concept, but it's unfinished.
10) Windshield is far enough away and the hood is massive....seeing what's below would be great if you had the lux package and a camera system, or you can just steer this huge thing into whatever and hope for the best. Honestly, it was massive compared to the Jeep and I couldn't see how you can expertly navigate it through any technical terrain without the Lux package camera system and at least 1 spotter/guide.

Final opinion....it's not bad. But it's a truck. If you want to offroad in a truck where you can't see well out the front and/or modding it with cool accessories might be a bit challenging as you have to replace lots of factory parts in order to do so....this might be your vehicle.

I dodged a bullet. The Bronco seemed overall a great concept, but they cheaped the crap outta the infotainment, and they failed to put quality into the interior where a literal grab-handle felt like I was hanging on to a Glad trash bag tied to a tree.