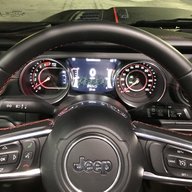 First Name

Mamba
Joined

Jul 5, 2020
Messages
Reaction score

98
Location
Vehicle(s)

2020 Rubicon Recon
Hi Team,

Like many of you, I have been researching the best lift kit for my JL's particular use: daily driver, father of one with one on the way, lives by the beach and hits the trails/camping once a month.

For context, I have a 2020 JLUR Recon, mostly stock outside of tinted windows, some interior goodies and Warn mid-height tube grill guard for factory steel front bumper. Lots of other stuff on the way, however most shipping times are delayed, as expected.

At first, I was sold on the Mopar "2 inch" lift. But after reading about the mixed reviews and range of height achieved, despite the benefit of factory warranty and quality parts, I started to wonder what else was out there. All the positive reviews about the Dynatrac 2 inch lift ride quality and the fact that they were designed by Tony Carvallo had me close to sold. But after reading about spring settling and forward rakes on rigs with weight (ie bumper, winches, racks), and realizing it was a pretty incomplete kit and would likely need some additional reinforcement and geometry correction, plus the fact that it might be a bit small for 37s, my quest continued.

That brings me to the Teraflex 2.5" kit with Falcon 3.3's. Obviously in a different price category ($2,500 or so), but clearly a superior kit, with Falcon 3.3s, 24 way adjustability, direct port reservoirs and everything needed for reinforcement / geometry correction.

I haven't seen much in the way of reviews of this kit on the forum. Does anyone here have any experience with / running this setup? I would love to hear firsthand how this kit performs on and off road. On paper, it looks like exactly what I'm looking for.