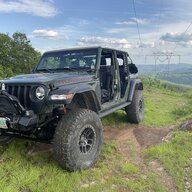 First Name

Elliot
Joined

Oct 26, 2021
Threads
Messages
Reaction score

329
Location
Vehicle(s)

2021 JLU Willys
Build is a 2022 JLU Rubicon XR, 3.5" MetalCloak Game Changer (w. Rocksports), and 37" BFG K02s. It is weighed down by full belly steel skids, and steel front/rear bumpers. It has a ProRock 44 fully built front axle with 4.56 gearing (RCV shafts, Dynatrac rebuildable ball joints, etc.). It has also has a Rusty's steel tie rod and drag link.

The lift kit went on at 2-3K miles with the K02s, then the ProRock 44 went on around 5K miles. I am now up to just over 29K miles 18 months later.

Went in for my inspection and got a few surprises.

1) The factory pitman arm is loose (nut is fully tightened), indicating that it has worn out prematurely.
2) The Dynatrac ball joints are shot already after about 25K miles (100 miles off road through moderate to hard terrain). The drivers side has more play front and back. The play is not in the fitting that were pressed into the knuckles, thank God, but now need to be rebuilt.
3) Tie rod end and the tie rod on the driver's side are also shot. With the jam nut fully tightened, you can flex the tie rod where it threads into the end, indicating the threads are wearing out.

I am honestly really surprised by #2 and #3 above. I invested in quality components hoping they would last longer. Kicking myself for deciding to run 37s instead of 35s. Buying a house this summer, I haven't been out off roading since the spring, and even then, it was maybe a total of 15 miles.

Reality check me here, should I anticipate that every 12-18 months, I am going to be dropping $800+ on a new tie rod, ball joint rebuild kit, and other steering parts running 37s? Again, maybe 100 moderate-hard, off roading miles (maybe 25% as true rock crawling) with 25K of commuting road miles.