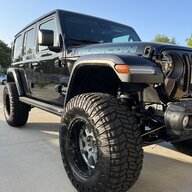 First Name

LJ
Joined

Mar 23, 2021
Threads
Messages
Reaction score

277
Location
Vehicle(s)

2021 4xe Rubicon
So I went on Autotrader and filtered for Dealers with the 392 and basically one-clicked all the Dealers to see if they really had it. Hit up at least 40 dealers across the US. I would say I had email exchanges with about 30 of them within the first hour. Almost all of them said what was shown was already sold and they don't have any in stock. Of the ones that did have stock, it wasn't the color/option I wanted, but they were still charging MSRP+$5K.
Then I came across one that was exactly what I wanted (black w/Sky Touch), dealer responded back that it's available, and for a second I was about to put a down payment and buy it. However, they are selling it for $100K. Not a typo, they straight out said it's because they see other dealers charging +$20K MSRP and there is no inventory, so they are selling it for $100K. BTW, this is the owners 392, so it probably has a few more than 10 miles on it.
Way out of my price range but with the supply situation that it is now, I wouldn't be surprised to see more of this.
https://www.glendalechryslerjeep.net/all-inventory/index.htm?search=7389
Also, of all the dealers I spoke with, they say their reps say a build will take 90 days, but they all personally believe it's more like 6 months at least.
If more stock doesn't come available, I think they will sell that for $100K, as I started debating it for a second. So if I was willing to consider it, I'm sure more people with more money will go ahead and pull the trigger.