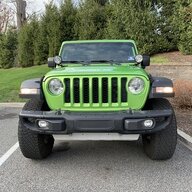 First Name

Steve
Joined

Aug 7, 2019
Messages
Reaction score

281
Location
Vehicle(s)

2018 Mojito! JLS, 2018 Firecracker JLUSS
Build Thread
Occupation

Teacher
Figured I'd take time to post a story here, and another positive review for the JL we all love. My wife leased her '18 JLUS in May of 2018. Our first weekend with it we broke it in by driving it up to Vermont from North Jersey (a little over 300 miles each way). If memory serves me right, overall mileage was around 22-23 mpg (actual calculation with mileage driven/gallons to refill) - pretty great for a brand-new rig.

Fast forward 1.5 years and 10,500 daily-driven miles, we took it for a family road trip up to Maine, New Hampshire, and Vermont from November 7-10. The Jeep was loaded with myself, my wife, our two teenage kids, luggage, and a cooler. Day one was a straight drive up to Bangor, Maine, a little over 7 hours and almost 450 miles away. We went through NY, CT, MA, NH, and finally into ME. I was going to Kramer it and try to make it all the way on one tank, but I'm glad I stopped outside of Bangor for fuel. It took 17.5 gallons to refill, and we had traveled 439 miles, so the math gives us (drumroll, please) 25 mpg. That 8-speed auto is amazing on the hills and mountains; it never hunts for a gear, just picks the right one and downshifts to get the job done. Average speed on the highway was between 65-75 mph, especially in parts of ME where the speed limit is 70 mph. Wind noise is definitely more noticeable over 70 mph even with the hard top and it was windy to boot, but we were not tossed around at all. No death wobble or any complaints about the ride quality either. We were all comfortable, and the Jeep stayed nice and warm with the temp set around 70. Day two was seeing the sites around Bangor, like the Thomas Hill standpipe that is the inspiration for where Pennywise hides his victims in "It," the seriously creepy Mount Hope Cemetery that inspires part of "Pet Sematary," and a few other spots.

Day three took us 275 miles across the hills and mountains of Maine, New Hampshire, and into Vermont. This trip had more local roads, as there is no direct interstate that cuts across to Waterbury where we were staying. We averaged around 22 mpg, and it took a little over 5 hours. I really wanted to do the Mt. Washington Auto Road, but it was -3*F at the top and we could see snow on the peak, and the forcasted wind gusts were 35-50 mph, so we decided to pass LOL.

Day four was the return home, a little over 300 miles down through VT and NY on the way back to Jersey. Again, the Jeep was flawless, and with less ambient wind outside it was a quieter trip. Speeds on the way home were mostly 55-70 mph, and we averaged 25 mpg again.

I have nothing but positive things to say about our Firecracker JLUSS - love it!!!