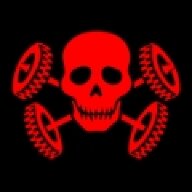 Joined

May 6, 2021
Messages
Reaction score

1,276
Location
Website
Vehicle(s)

2021 Wrangler, 1987 Comanche, 1997 F250
Build Thread
Occupation

enginerd
Hopefully this isn't a dumb question that has been asked a bunch of times. But my Google-fu is failing me and I can't find any information on this topic. Hopefully someone smarter than me knows the answer.

I have the upgraded alpine sound system and it's good enough for me. However, the issue that I'm running into is that I don't like how over-balanced the subwoofer is I like having a sub to round out the low end but it's cranked up too high and it doesn't sound good to me. I don't like the low end to really pound compared to the rest of the range.

I know I can adjust the "equalizer" in the audio settings but I end up dropping out too much of the lower end of the range and it doesn't sound good.

What I'd really like to do is see if I can just turn down the gain on the factory amp for just the subwoofer. That way it will be balanced the way I like.

Is that possible to do or do I need to figure out an alternative?