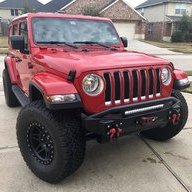 First Name

Will
Joined

May 8, 2018
Messages
Reaction score

2,415
Location
Vehicle(s)

2018 Wrangler JLU Sahara
Occupation

Gas Pipeliner
Vehicle Showcase
No warning messages. ESS doesn't engage after about 8 months of vehicle ownership. I'm a light driver, but not so light that I feel it should affect ESS. I've never had battery issues with my other vehicles. I have a 24 x 7 dash cam that when in parking mode, but it would turn off if battery voltage drops below a 12V + threshold.

I checked fuses: fine, installed and energized a trickle charger, problem went away. Still have service call this week because maybe something's defective. I'd be upset to know that to save energy (read fuel) using ESS I have to expend energy (read: electric) to charge the rig on a regular basis. That seems self defeating to me.

Then again....problem may be something else that trickle charger is able to overcome the threshold of, that wouldn't be needed once repaired.

We'll see. Will report back.
Have you taken a meter and checked both batteries for correct voltage, this is the only way to check the voltage as from what I have been told what is displayed in the EVIC is what the alternator is doing, for example my EVIC voltage display this morning was 13.5 but then I checked the battery directly and it read 12.6 but after running a few errands the EVIC displayed voltage dropped to 12.9 at idle and the battery checked again but read 12.72 so my assumption is that the alterantor only charges when needed and it does it during deceleration whether by braking or just letting off the pedal.
Again I was told by a service tech that the battery voltage displayed will swing from 12.8-14.2 depending on what the needs of the battery are and it charges it to just the 12.7 then the alternator charging drops off and does what it needs to do by monitoring the voltage thru the IBS
I am pretty old school and am used to seeing the voltage displayed steady at 14+ but was told the JL is no supposed to do that, I know several on here say there's runs a solid 14+ all the time and have no issues and no messages displayed and ESS works fine but when mine showed a steady 14 volts the message displayed in menu #6 on the EVIC said "start/Stop not ready battery charging" but it never had any issues starting and running but the dealer ran a test and advised the main battery was bad and once they replaced it all went back to working correctly and the voltage displayed again runs 12.7-14+ but once I have been driving for awhile it slowly drops down to the 12.8 range and only ramps up when I decelerate
Last edited: