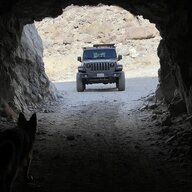 First Name

Alastair
Joined

Oct 24, 2021
Threads
Messages
Reaction score

149
Location
Vehicle(s)

2019 2 Door Wrangler Sport
I feel like i've posted this same thing more than 10 times on this site but perhaps it's just different members reading it each time:

The EV push is going to hit a brick wall in the 5-8 year timeframe. There are so many hurdles, which at this time and in the near future (within the next 10-15 years) are insurmountable. The grid is a massive one, and that's a 30-year project, minimum. Resources to build enough batteries is another. The COST of batteries is also a problem. Then there's the recycling of batteries which right now pretty much doesn't exist. None of these technologies are advancing fast enough to get to the point where we need to be for any major automaker to have an all-EV lineup by 2035...at least if they want to remain profitable, that is. Earliest we are getting to a 50% EV country is 2050. No one reading this now will see ICE go away in their lifetime.

Seems like the popular rationalizer in this thread is "off peak charging". First problem with that is that "off-peak" is a concept that only exists in certain regions. Up here in the NE we don't have such a thing because of our wide range of possible weather. For instance, in the cold months, nighttime grid load is actually HIGHER...so that's a deal-breaker right there. But even for more temperate climates, "off-peak" is not a solution because you don't have enough "off-peak" time to charge two vehicles (many locales don't even have enough time to charge 1). Furthermore, regardless of where you are in the country, you have at best a 200A residential feed. That's enough for ONE level 2 charger. If you are willing to sleep in the dark with no AC or heat you can probably squeeze two in there (obviously this is assuming they are charging "off-peak" or what we in the NE call "overnight") but I doubt anyone who has the cash for a BEV is going to be willing to rough it like that on the regular. That doesn't even address those who are saddled with a 100A feed and can't even use level 2 chargers...so they'll be waiting 2+ days for their EVs to charge, one at a time. Incidentally, those also tend to be the lower-income folks who live and die by reliable personal transportation.

See? There are just too many major hurdles that have not even begun to be addressed...also note that none of these issues are being discussed at a level that's being picked up by the talking heads. Most of you have probably never heard of any of this stuff but you certainly have heard all the news about how California is going to be banning ICE vehicles and putting huge taxes on ICE vehicles...and how several major automakers plan to have all-EV lineups in 5-10 years. I think we can pretty easily see why that is.
Well I can point out what you say wrt off-peak is not true. We have a 200A service and have charged two EVs offpeak for mulipless years. I have energy monitoring and my usage drops significantly after 10pm. On level 2 I have never had any issues getting 2 EVs charged with charging starting after 10pm. Also your point on only 100A service is valid - one EV would be fine but 2 is unlikely to be able have simultaneous fill 40-50A level 2 charging - however the new wall connectors can talk with each other and they will divide the load so that the sum of each does not exceed a specific amp load - so 2 could draw 20A each and then when one is fully charged the second can take the full 40A.