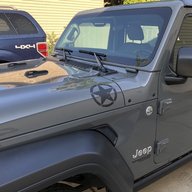 First Name

Mike
Joined

Jun 18, 2020
Messages
Reaction score

62
Location
Vehicle(s)

2020 Jeep Wrangler Sport S
Dealer Name: Ken Garff Jeep
City, State: West Valley, Utah
Date Taken In (for evaluation, not specifically to do the work): 9/21/2020
Date Completed: 10/7/2020
Did you buy your Jeep from this dealer: Yes
Your Jeep has suspension/tire modifications: No
Dealer disputed the TSB (didn't want to do or said did not apply, etc.): No
How likely is it you would recommend this dealer's service department to a friend/colleague? 10

They called me Thursday 10/01/2020 and told me the parts were in and could I bring it in Monday.
(They said it may take more than a day). I took it in Monday. I called Tuesday and asked the status. They told me they might be able to have it by end of day, but would prefer I wait till Wednesday so they would not have to rush. I picked it up Wednesday (today) and the service was done just as listed on the TBS (and I have checked that all of the parts are new). The steering seems much improved and they washed my Jeep too. They were extremely friendly and had no issues with me bring the jeep in (tbs in hand) and ordering the parts and then doing the service when the parts arrived. I don't think I could have asked for more.