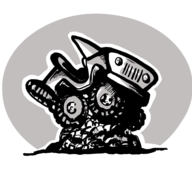 Well-Known Member
Rock Sponsor (Level 1)
Joined

Apr 18, 2017
Messages
Reaction score

7,877
Location
Website
Vehicle(s)

2021 JLU Rubicon, 2017 Chevy Tahoe
Build Thread
No action in this thread in a while, but I will update to say I decided to jump off the bandwagon, and bought myself a 2017 bright white unlimited sport with half doors. There were two very big driving factors for me.

One, even though it is 99% my car, I still value the wife's opinion, and she really was not a fan of the look of the JL's. There are things I didn't like about the appearance, but there were things I liked better about the JL's than the JK's, but not enough to fight that battle, so that pushed me to the JK. So that was not a personal preference thing, just a keep the wife happy thing.

Half door availability was my primary personal reason. Yes, I know I can get them on the aftermarket, but I didn't want to have to pay for them when I can get them for free getting a JK. Finding a half door on the lot was really hard, so I had to jump at the opportunity while I could I felt.

There are some other factors that played into it as well:

The dealer was offering me a fantastic value for my trade, even more than what I thought I would be offered, and didn't want to miss out on that opportunity.
My current wrangler was starting to nickle and dime me to death, so it was just time. Had 110k miles
the base price jump, for what was important to me, was not worth getting a JL. I am a pretty basic guy and was pretty happy with my JK, and nothing that was coming down the pike in the JL was so outstanding to me where I said "I gotta have it!!!, where I would get a JL no matter what. The only substantial improvement for what mattered to me was the lack of zippers on the soft top. Not important enough to be a deciding factor.
I didn't really want a hard top this time anyway, but the same ole same ole with the hard top made that a non-factor.

That's my story. I am going to stick around on the forum though, because for one, I enjoy the hell out of it, and I am curious to see what everyone else gets. And I want to see how Aventus pimps his ride when he gets it!
Congrats on your new Jeep. I think for those of us that are looking at a Sport it is a harder choice because many of the real benefits are at the higher trims (especially if you are interested in manual like me). And if you are cost-conscious even more so. I did pros-and-cons and I think I will still go JL but it depends on how a few things play out.