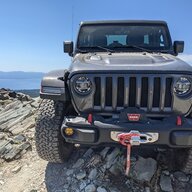 First Name

Jimmy
Joined

Sep 17, 2018
Threads
Messages
Reaction score

797
Location
Vehicle(s)

2022 JLUR XR 2.0T Auto, 2019 JLUR V6 Manual (sold)
So, I could get into as much engineering detail as you want about this, but the short version is that modern starters are a lot more durable than those from even 10-15 years ago. There's a lot going into minimizing starter wear - cam/cylinder position sensors, higher-torque (and lower-RPM) motors, solenoid decoupling of the brushes the instant the startup sequence is complete, needle bearings instead of oil bushings. The amperage of the whole system is lower, which minimizes heatsoak... the starter system in your JL (ETorque or no) is rated for 100x the MTBF compared to the starter in a JK. It's going to be one of the last of the major drivetrain components to fail on its own.

The 12V auxiliary battery, however... that's entirely another question, and that's been the source of 95% of the ESS failures on the JL (the remaining 5% are either sensor or fuse related). My recommendation on dealing with that is to replace the stock setup with the Genesis dual-battery kit as soon as feasible.
I don't think he's referring to heat soak within the starter, but rather the effect of all the systems being shut down every couple minutes, and all the fluid sitting there stagnant, soaking up heat because it's not circulating through the cooling systems, etc.
It's heat soak of the entire vehicle, which can't be good for it.