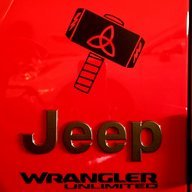 Joined

May 26, 2017
Messages
Reaction score

1,846
Location
Vehicle(s)

2018 JLUR, 1979 CJ7
What do you expect people do with their Jeeps 99% of the time? Do you think it is realistic to go buy a $30K vehicle and only use to to go climb rocks every few weekends? The reason the Jeep was brought to market was so that it could be the ultimate all-round vehicle to get from here to anywhere and back. They weren't made so people would use them primarily for 4-wheeling.
Uh... No I don't, which is why I made the response I did. Read more than one post above to read the full string and quit jumping to conclusions. Since you obviously didn't... I'll quote what I was responding to....
"Instant max torque doesn't interest you? It seems to be to cover all the draws of a diesel
especially for a vehicle such as the Wrangler that spends most of its life off road or in stop/go/low-rev or crawling situations
. If you're doing a lot of highway driving the advantages start shifting toward diesel but that's not how most Wrangler owners I know use them."