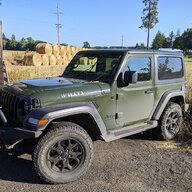 First Name

Dave
Joined

Aug 26, 2019
Messages
Reaction score

836
Location
Vehicle(s)

2019 Sport 2DR, 2020 Willys 2DR
Occupation

Nerd
I'm waiting for my 2 door JL to be built. Need a soft top but really dislike the oem softop - just hate the safari look and the sloppy look of the rods and that it doesn't go all the way down out of sight like my jk soft top does. With that said does anyone know:

Does the suntop "roll" down? Saw that phrase on their website but not sure what it meant.

How long to take a suntop on/off completely if I have it in but want to go topless?

On the suntop website there seems to be solid rods or plates or something on top of the tonneau cover on the mojito jeep pics...what are those?

How long to remove/ put on Mopar softtop completely if I don't want it blocking my view when down?

Considering just using the top lift pro to go hard top on/off on day to day basis but not sure how long I'll love that solution. Really means I'd have to make a firm decision each morning.

Not interested in sunrider options thanks for any help!


.
Here's a video of someone pulling the suntop off and putting it back on; it's a JK, but I think it's largely the same for the JL version:
The back windows look like a pretty big hassle, but they do roll/fold into a much smaller footprint than the OEM windows. The top part rolls forward so it's largely out of the way when you're opened up (it may also act as a bit of a wind deflector?). There could be some merit in getting just the top part of the Suntop and using it as a bimini top that's basically water-tight in the front where it matters most.
As for removing the OEM soft top... there are two bolts on either side to remove the main mechanism, then you can lift it off. It's just a bit awkward to deal with because it wants to shift around and you kind of need to pull it out just right to keep it from scraping the rollbars. I got in the habit of wrapping it in a few places with large velcro straps/luggage straps/lashing straps or the like, but it's still kinda tricky. The door surrounds and guide rails are a couple more bolts each if you want to get completely naked, but I didn't really think it was needed to strip it down; it's not like the sheet metal rollbars look all awesome when that stuff is removed.
I have a hardtop now if that tells you anything about how much patience I had left for the OEM soft top's quirks. I would still like a "waterproof" bimini or bowless soft top that stores in the Jeep and is quick enough to deploy for surprise weather or cold mornings... but I haven't really found "the one" yet.