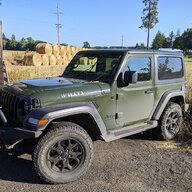 First Name

Dave
Joined

Aug 26, 2019
Messages
Reaction score

835
Location
Vehicle(s)

2019 Sport 2DR, 2020 Willys 2DR
Occupation

Nerd
I've only put about 2000 miles on my Jeep, so, this is not based on long term numbers, and it's still breaking in, but I seem to have noticed a trend (looking at the evic). For the first 1000 miles or so, I had the top in mostly safari config, as the weather was nice. I was blown away with how good the MPG was (averaging 26-27).

Well, as i drove it more and got more used to the sloppy steering, my lead foot started showing up, and about this time the weather started getting rainy, so the sides/back went back on. My MPG started averaging 23-24 for the second 1000 miles.

Today, weather was clear, so I took the sides/back off, and, again, I see my current MPG going higher, like it had been and I see my average starting to creep up. MPG isn't that big of a deal, I just watch it out of curiosity (and to catch myself from driving too aggressively.. Embrace the chill and all that). But, I wouldn't think ditching the back windows would make a big impact.. I can tell that MPG takes a hit with the top in sunrider config (with windows in) vs fully enclosed. I haven't really driven much in "full convertible" mode to know what effect that has..

Any others notice this or have different experiences? I'm completely stock on everything still.