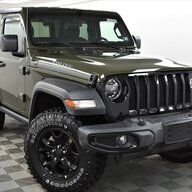 Joined

Mar 16, 2021
Messages
Reaction score

561
Location
Vehicle(s)

'21 2DR Willys 6MT
Hi. Bonjour. That stupid Quebecer that'll probably botch half of his sentences again because english is his second language. Hey, how you doin'. That's me.

So yeah, I fell into the mighty money pit. My steel bumper has arrived. My winch has arrived. My custom dog crate has arrived. My Gobi roof rack has arrived. Everything is in order, all the pieces are there, the buying experience has been flawless for every item.

However, a very silly, say stupid thing is happening at this very moment. Because I find myself in this strange situation where all the stuff that I bought is taking about half the space in my little tiny shed...

...AND I STILL DON'T HAVE A VIN FOR MY &%?$!*# JEEP.

Is it because of that microchip shortage? Is it because Canada comes way down in Jeep's priority list? Is it because everything sucks? I don't know. Maybe. Or not. Who knows at this point?

*SIGH*

So hi. How you doin'. I'm now that guy who's sending passive agressive text messages to my dealer saying "well then, if I knew it'd be that long, I would've grown a tree, look at it become a force of nature, chop it down when it's mature, carve a chair into it and then sit down on it so I can comfortably WAIT FOR MY JEEP!"

Meanwhile, I look stupid in a beige Compass loaner.
So. How's your off-road season, you lucky bastard?

P.S.: Just needed to vent, i'm fine (with Ross Gellar's voice).