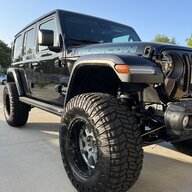 First Name

LJ
Joined

Mar 23, 2021
Threads
Messages
Reaction score

277
Location
Vehicle(s)

2021 4xe Rubicon
Going to Big Bear this weekend. Currently it's heavy snow but we're going Sunday when the weather expects to clear up. Currently Big Bear is under R2:
Requirement 2 (R2): Chains or traction devices are required on all vehicles except four wheel/all wheel drive vehicles with snow-tread tires on all four wheels.
Now I've got a Rubicon so I'm good with the 4WD part. I have 37 x 13.50 x 18 Radar Renegade RT+ which are mud/snow tires but I've seen where they are checking specifically for M/S on the tire and mines doesn't say that, just the RT+ so I'm thinking they would say mines aren't officially M/S and instead require chains?
Problem is, I can't find chains to fit these tires. Called AutoZone, Napa, and OReilly and none carry sizes that fit.
Based on the above, am I not going to be able to take my Jeep and instead take our crossover (since those are generic tires and can easily get generic chains)?
I'm hoping by Sunday the weather clears up and Big Bear goes to R1:
Requirement 1 (R1): Chains are required on all vehicles except passenger vehicles and light-duty trucks under 6,000 pounds gross weight and equipped with snow tires on at least two drive wheels. Chains must be carried by vehicles using snow tires.
Which means I could take the Jeep as long as I have some chains inside, so I'd obviously pick up some generic ones that wouldn't fit.
Advice?