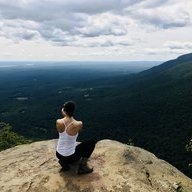 First Name

Alex
Joined

May 8, 2018
Messages
Reaction score

2,498
Location
Vehicle(s)

2021 2-door Rubicon
Oh boy…

New here to the JL forums. Just ordered my JL and went with Snazzberry. And I am having nightmares that this is a chick color and will regret getting it.

not to mention people at work have commenced naming my Jeep for me

The most popular name has been Snaggle Puss!

I have had 3 Wranglers before this. My first was in '87 red Wrangler (very special Jeep, but sadly stolen and destroyed) And the other 2 were a black TJ and a black JK. Please help me feel better about my decision about going with something different

.
Full disclosure, I'm a chick, so knowing that I ordered the same color may not be super helpful…
However my Jeep tastes are not particularly girly (proof point: my 2018 2-door Sting Gray Rubicon, below). I love black too, but think that strong, unique colors are one of Jeep's strengths and are too good to pass on. I was favoring Sarge Green until I saw pics of Snazzberry in different lights (not pink at all IRL, by the way). Believe it or not I had the same concerns you do: I like feminine dresses, but not feminine Jeeps.
But my thoughts were as follows:
1. Who cares
2. A Jeep is a Jeep, in any color. You could put a tiara on John Wayne and he would still look manly.
3. No one except us JL nerds knows what this color is called. Yes the name is silly, but if anyone saw your Jeep they would see a deep red and think it looks awesome, end of story.
4. Over the years I've seen many Chili Pepper Jeeps, Deep Cherry Jeeps etc - they all looked great. Those are all almost identical to Snazzberry, only with better names.
5. If you're still concerned once you take delivery: mod it, lift it, get bigger tires, get a steel bumper…
Really, I could/should have ended this list at point #1. By the end of the day, YOU name YOUR Jeep, not your coworkers. If their silliness bothers you, you can always change/cancel your order, but personally I'd change my coworkers first… They don't sound particularly endearing! If they haven't found anything better to talk about by Monday… well, should you really value their opinion? And anyway you'll have the last laugh when you ride off into the sunset in your new JL.
You'll love it when you get it; everyone here loves theirs and there is testosterone galore on this forum. Real men (and women) pick any color they want and own it - and you too can do exactly that.

Last edited: