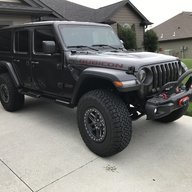 First Name

Garrett
Joined

Sep 20, 2018
Messages
Reaction score

39
Location
Vehicle(s)

2018 JLUR
Went ahead and installed the SmartStopStart today, and simply love it.
We all have our pet peeves in life, and ESS has been one of mine from day one. For those who simply remember to push the button when you start your Jeep, this may be irrelevant. For whatever reason, I only remember to turn it off once my car shuts off the first time. My drive is short with several very short stoplights, I honestly don't see the ESS saving me any gas. For those with longer periods of stopping, possibly a different story.
The install is easy in principle. Unplug a plug, add the device, connect the plug into the other end, The tricky part is getting to the plug you have to disconnect. Here's what I did, and it was a breeze.
1) I did not try to unplug the plug while trying to look under the dash at the same time. I'm 6' 4" and simply don't fit laying under the dash to where I can then reach up. Instead, I took a peak, saw what plug I needed, then stood next to my Jeep in a comfortable position and reached up under the dash, felt for the plug I needed and disconnected it with one hand (this way I could easily push in the tab and unplug it at the same time).
2) Plugging it back in did not work with this "blind" method. Maybe with patience I could have blindly pushed the plug into the socket. Instead, I tried this and it slipped right in: I have lots of surgical instruments in my tool box and used a needle driver to easily pass the plug up and connect while looking underneath. This one was 7", long enough my hand did not need to fit up into the tight space. Long needle nose pliers or some other long pliers should work. This may not make sense until you are on your back, looking up under the dash trying to get the plug in. All I can say is it was super easy this way.
The SmartStopStart works perfect, and my ESS is now off every time I start my Jeep. I couldn't be happier.
The plug you need to reach is tucked up in there
This made slipping the male end of the SmartStopStart into the socket a breeze
Last edited: