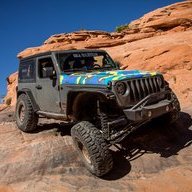 First Name

Jason
Joined

Jan 20, 2019
Messages
Reaction score

138
Location
Vehicle(s)

2018 JL Rubicon
Here we are at update #6! The Rubicon has made a huge amount of progress in 7 months. It performed very well in Moab this year but there was room for improvement and I wanna go a little harder in 2020.
The build and subsequent updates:
The build -
https://www.jlwranglerforums.com/forum/threads/silent-pandas-2-door-rubicon-build.25628/
Update 1 -
https://www.jlwranglerforums.com/fo...-build-update-metalcloak-inner-fenders.31381/
Update 2 -
https://www.jlwranglerforums.com/fo...n-build-update-2-metalcloak-bump-stops.34124/
Update 3 -
https://www.jlwranglerforums.com/fo...r-smarts-yeti-xd-drag-link-and-tie-rod.34837/
Update 4 -
https://www.jlwranglerforums.com/fo...lcloak-lower-shock-relocation-brackets.36973/
Update 5 -
https://www.jlwranglerforums.com/fo...bicon-update-5-z-automotive-tazer-mini.37354/
As we all know, the front drive shaft CV joint is the limiting factor in how much the Jeep can be lifted or more importantly for us, the droop travel. I wanted to get all of it sooo...front drive shaft here we come! I can now pull the 1" spacer out of my dampers to get all of the travels.
Not ones to go half way, we got a rear driveshaft as well.
I called JE Reel to order the shafts. We went with 1350 sized ujoints and double cardan joints at the t-case ends. I spoke with Jim Reel a couple of times during the process...he is one hell of a nice guy. The front shaft is available on their website. The rear...I had to send Jim a measurement as they had not yet built a rear shaft for a 2 door with an auto.
Installation is pretty straight forward and there are PLENTY of resources online for that so I'm not gonna bore us with those details.
As you can see from the pics below the difference in size between the stock and 1350 joints is pretty dramatic.
Front Shaft
Rear Shaft
Aside from the travel improvement, I am also working my way through the drive train to eliminate the weak points. I'd much rather replace them now, while the circumstances are under my control rather than later when they break on the trail.
Next up? Axle shafts...
View attachment 243525
View attachment 243527