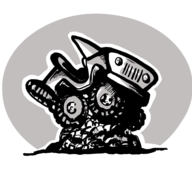 Well-Known Member
Rock Sponsor (Level 1)
Joined

Apr 18, 2017
Messages
Reaction score

7,658
Location
Website
Vehicle(s)

2021 JLU Rubicon, 2017 Chevy Tahoe
Build Thread
Hi, everyone. Total "noob" here so apologies for the vague subject line and basic questions, but I'm planning to make the biggest purchase of my life outside of my home and I figured who better to ask than people who drive what I am becoming obsessed with.

A little about my situation: This will be my only vehicle. My credit is good but I plan to pay cash in full. I have been driving the same Chevy pickup for 21 years, and have about $36,408 saved up. Late last year I went to test drive a used Tacoma and for no reason other than it caught my eye, also test drove a manual Willys Wrangler. While the Tacoma seemed far and away the more practical choice; that Jeep was SO fun to drive that I couldn't bring myself to buy the pickup. I left the dealership with no new keys in hand to do my homework. Weeks later I still can't stop thinking about it. I have built no less than 200 of them online at this point.

We live in the mountains and a 4 wheel drive is mandatory. I hunt and fish on land you wouldn't exactly want to take a Camry through. This is part of the reason a used JL appeals to me -I don't want to put the first scratches on a shiny new Jeep. But my daily driving will be exactly 2 miles to work and 2 miles home each day, trips to the grocery store and so forth. Something my wife can drive when there's snow and ice.

I am not a mechanic. I am not good at diagnosing vehicle problems and worse at fixing them myself. Reliability is paramount, and my biggest fear is expenses after the warranty expires. Threads abound here with titles like, "Back to the dealership" and I do realize that people are going to post when something goes wrong more often than, "My JL hit 100,000 miles today." My faith in Fiat isn't terribly high though.

I've spoken with Travis at Tri-Cities who is a sponsor here. My local guy offered $500 off of invoice, and Travis does 5%, and another 1% if I get an FCA control number. Attached is the build I sent him to quote. Has everything I want except cold weather group, because I can't seem to add that without a convenience group (and with a manual, it won't remote start, plus I have no garage door).

My preferences are as follows (please chime in if anyone thinks any of these aren't worth the $ or I'm omitting something I might wish I had down the road):
3 piece hard top
manual (aware of the recall)
wheels that aren't ugly (Yes, I can upgrade later, but I can already hear my wife saying something about replacing "perfectly good wheels")
LED lighting group
a color my wife and I both like (Sarge green is my favorite, hers is Snazberry, ocean blue metallic is #2 for both of us)
Side steps since she's 5' flat
A/C
Cold weather group
In a perfect world I'd want steel bumpers, but they only seem to be available on the Rubicon which is out of my budget (new anyway). Thanks for reading all of this and look forward to hearing your thoughts.
I would buy new and get exactly what you want. I would also at lease evaluate the financing deal. Rates are very low right now. If you finance with the dealer, the rate may be a little higher but he will give you an extra 1% off.
If you don't have a control number you can get one with Tread Lightly.
And I want to put in a plug for
@

[email protected]
. He's a great guy. Tri-City is a great little dealership. They were completely transparent and treated me great.