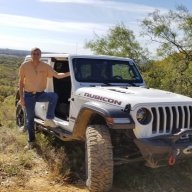 First Name

Mike
Joined

Oct 2, 2019
Messages
Reaction score

3
Location
Vehicle(s)

2018 Jeep Grand Cherokee Overland, 2003 Chevrolet 1500HD, 2013 Hyunday Azera
Hey, everyone. I'm new to the forum. I'm a long time GM customer. Mainly half ton trucks and classic cars. I've always wanted an older Jeep as a second or third vehicle. I've decided it makes more sense for me to get a new Rubicon and use it as a daily driver. I've done all my research and last week I decided I would go drive one to see if I liked it.

I've driven used JKs and was convinced that I'd like the JL. During the test drive, everything was great but there were 2 noises that would bug me if it were an every day thing. At idle there was a harmonic low pitch rumble. It was the kind of rumble you get with bad motor mounts where the whole car shakes, only the car was not shaking. There was just this low frequency harmonic. The noise immediately stopped if I pressed on the gas at all.

The other noise was a buffeting sound at about 40 MPH as if one of the windows was cracked a little. I checked the windows and this was not the case.

I'm guessing this is not normal. I did not drive another Rubicon. Could both of these noises be related to improperly re-installed top? I know this dealer sometimes removes the tops for display.

I'm considering ordering from a dealer that is 3 hours away. I'm worried about showing up to pick up an ordered Jeep and finding something like this on the test drive and having to argue that it is not normal.