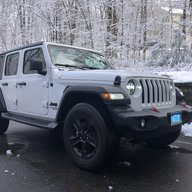 Joined

Sep 19, 2019
Messages
Reaction score

10
Location
Vehicle(s)

20' JLU Sport S
Hi everyone.

We are 500 miles into ownership of our 20' JLU Sport S. I'm finding the driver's seat to be a bit uncomfortable. The seat overall is very stiff. The lumbar support is just not in a beneficial spot to assist, so it's causing a bit of a back ache.

Anyways - I've poked around looking for alternative seating solutions, and the real choices are limited to non-existent. I can't even find any wrecked JL part-outs to get OEM leather seats from a Sahara.

Anyways - I've been looking at the Katzkins and now I have questions before running towards that as an option:

Does anyone have any real world experience to compare the different trim level seats - leather vs cloth - as far as comfort and support? For example - anyone gone from a factory cloth JL to a factory leather JL or vv?

Is factory leather vs cloth identical as far as structure and the underlying foam go? I'm asking because if the answer is no - then I will keep poking around for a set of part-out leather Sahara seats. If the answer is yes - then it leads to the next question:

Will a factory cloth seat re-finished with Katzkin be more comfortable than the same seat with factory cloth?

Finally - has anyone gone so far as modifying the underlying foam used prior to re-skinning / covering?

Any and all input outside 'I don't know what you're talking about - I love my cloth seats' is welcome!