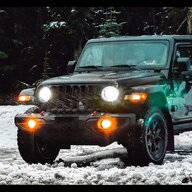 Joined

Nov 28, 2019
Messages
Reaction score

258
Location
Vehicle(s)

JLUR Benz Porsche Subie +
This is fundamentally the reason we got the Rubicon. Getting out of stuck situations requiring traction to all 4 wheels at the same time. The key often has simply been engaging all the lockers and using chains when on very slick surfaces. The rest of the time on-road the base 4Hi with BLD has provided plenty enough road traction. Really the primary concern for us is stopping - not going in winter conditions.
If you plan to go off-road and use the capabilities built into the Rubicon get that. If not get another model better suited for your uses. There are plenty of real world use vids showing the benefits of open - BLD - LSD - and lockers. As noted many times 4Hi with OEM BFGs provide a crazy amount of winter traction right out of the box. The proven Rubicon locked axles just afford a decent get out of jail card when needed.
We go on snow and ice covered roads a ton - and for that have never been close to being stuck in just 4Hi. Only off-road - is max traction required for us - or blasting through iced up slush drifts. Basically just get the model that makes you feel the happiest with no regrets.