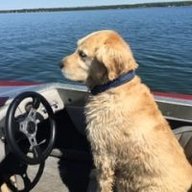 First Name

Randy
Joined

Jan 29, 2020
Threads
Messages
Reaction score

19
Location
Vehicle(s)

2020 JL unlimited
I couldn't agree more with your statement. I have the ASG, and use the adaptive cruise constantly. I did turn off the brake assist to just a warning, and put it on near. It has never gone off on me. Since I use the Adaptive Cruise all the time, it brakes for me. I do still pay close attention to the other drivers. It just makes driving a little less stressful in my opinion. I've had customers that don't want it because they like to tailgate. Never understood that excuse, but whatever it's your money. To not want an option because it's designed to help you is silly. To not want it because of budget is completely understandable. In my 22 years of selling cars, and seeing technology change a lot in those years. Most people don't want those options because they don't understand them. I remember when back up cameras starting coming out. People actually said they didn't want them cause they know how to back up, and that was a distraction. Fast forward 15 years, and now that same person won't buy a car without it.
I disagree. I do. The masses don't. I have had cruise control on every vehicle i've owned since the 80's. I didn't have it on my 3 in the tree Chevy 10 pickup. I used to put on 40K km a year till i retired a couple years ago and NEVER use cruise. Backup cameras. I have been around boats, sleds and their respective trailers since the 60's. driving since the mid 70's. still never use the backup camera. I have never owned a vehicle with a backup camera. With an acreage at the lake, i'm always backing up some sort of trailer. I have backed up friends vehicles for then to trailers and only noticed when i put the center shifter in park that, oh, they had a back up camera!
When I start the process of backing up a vehicle, my eyes ALWAYS go to the mirrors. I have never thought reverse, check, ok, look away from the windows down at a little screen now. VFR vs IFR I guess.
They only times it may come in handy is if your by yourself backing up to a large dual axle trailer with at least a 2 5/16 ball and you have to get directly under it as you can't budge the trailer. Guess i'm old fashion !