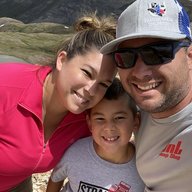 Well-Known Member
Rock Sponsor (Level 1)
First Name

Brett
Joined

Sep 14, 2018
Messages
Reaction score

2,841
Location
Vehicle(s)

2019 JLUR-8 speed 2020 F-350
We're in the planning stages of our big trip for this year. We've made some changes to improve the family comfort and convenience this year that we're excited about.
Trip highlights are glacier national park to Sacramento, San Diego and then back home. Some of the stops along the way are in Estes Park CO for white water rafting and wheeling, and yellowstone. We're still working on stops that can accommodate us though.
A few weeks ago we sold our 28' car hauler and replaced it with a 44'. Going on the trailer will be a nearly 30' fifthwheel trailer with enough room for the Jeep on the back. 5th wheel should be delivered around May and then the fun part of figuring out how to mount it. This will create some logistical issues with the length being 70' but the convenience of having a home away from home will hopefully make it worth the trouble.
These monstrosities are called crawler haulers and this will also be our office when we're home. We poured a big slab for a stand-alone office last year but this will kill two birds with one stone. We get a lot of folks from all over the state coming to see us and now we will have accommodations to house customers here if they'd like.
The trip is penciling out to around 7k miles with lots of stops and wheeling trips hopefully. Have several friends we've made from previous trips were tying to meet up with for hitting their local hot spots we haven't been to before along with running the rubicon again I think but maybe spreading it over three days this time.
I'll be updating this as we work the problems and firm some plans up. So far we're at glacier and considering where to head next. Thinking mount rainier but open for suggestions
brett